What tech is on your 2015 Holiday Wish List?
We've tested the latest mobile technology devices for field workers -- and while it's difficult to choose our favorite -- the good news is that whatever device you or your organization decides to purchase, you'll have the ability to accomplish so much more with less simply by moving from paper to a digital inspection process.
Without further ado, here's our first device review of our short blog series:
Apple's iPad Pro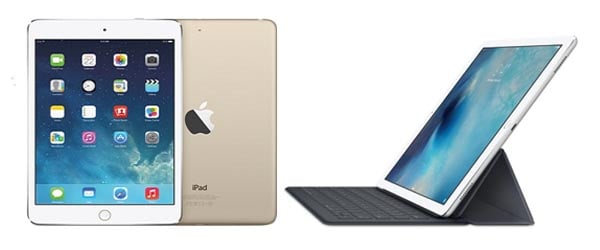 A lot has been written about the iPad Pro, especially in regard to replacing your laptop — as implied in November by Apple's CEO, Tim Cook.
You may have even seen Apple's latest ads promoting how the iPad Pro's large clear screen can help you "learn about the universe." While the new form factor and optional pencil will certainly provide for an enhanced experience, particularly for the creative minded, I haven't seen much written about how the iPad Pro aims to address the field service industry.
We obtained an iPad Pro on the day it was released, and around the office the initial reaction – as to be expected – was, "wow, that's large!" But, like kids on Christmas, we quickly downloaded Mi-Forms, Mi-Apps, and Mi-HVAC Apps to the new "toy" and took it for a spin.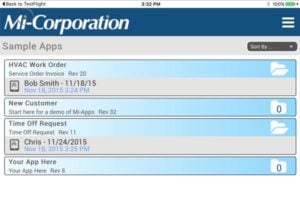 While each of these apps were built before the device existed, they all worked fast and reliably. We were easily able to navigate from page to page in Mi-Forms, and section to section in Mi-Apps. Tapping checkboxes and focusing fields was quick with the larger screen providing a nice finger target.
Using the Mi-Forms' paper-like interface, the experience was very similar to holding a clipboard. This makes sense because the iPad Pro and a standard piece of paper are about the same size. If field workers are accustomed to the clipboard and pen model of data entry, then this is about as close as you can get to that in a mobile environment.
With that said, the iPad Pro is not without its downsides.
1. As a desk worker, I don't have to hold a device all day long like field workers do. At over 1.5 pounds, the iPad Pro is a good 65% heavier than the iPad Air 2. While that weight might normally be reserved for battery space due to the larger screen size, the quoted battery life expectancy is the exact same.
2. The onscreen keyboard size is a little too large, which leads to hand fatigue as you're typing and holding the device. This could make collecting data in the field using touch input wearisome for workers.
3. Standard operating system screens have not been optimized for the larger screen real estate. For instance, while there are still just 4 app icons across the home screen, there's now a lot of extra padding between each icon.
The good thing about these particular issues is that they can be easily addressed going forward. But right now, it feels a bit like you're looking at the iPad Air through a giant magnifying glass.
The verdict? In my mind, the iPad Pro fits a niche that certain industries will find very useful. For instance, those interacting with an aging population or those with visual impairment might find this ideal. So too might those who are searching for a true mobile "clipboard" experience.
While it should ultimately come down to the requirements of the job and field worker, as a laptop replacement or primary field service device I would recommend exploring your options. Fortunately, there's a lot of competition in the space, and we'll provide a similar review on a couple of those devices in our upcoming mini blog series.
Stay tuned!