In celebration of Bob's fifth anniversary with Mi-Corporation, I sat down with him to talk about his career, his time with the company and some personal interests.
Let's talk about your background and your career.
After getting out of the US Navy, I spent time in the music business driving, delivering and selling pianos and organs. Following that, I joined the word processing industry which quickly evolved into the computer industry. I've had a progressive and esteemed sales career, including starting two companies, Technology Fusions, and PatienTree.
Back in late 2000 early 2001, as I was starting my first company, Technology Fusions, I met Barrett Joyner, former VP of Sales, and Greg Clary, CEO, and became a value-added reseller, a partner in the Mi-Co ecosystem.
I wanted to build mobile data solutions that utility workers could use in the field. At that time, tablets, computers, and laptops weren't embraced by utility workers. Mi-Co had its own digital writing platform and a partnership with a digital pen software company. A series of algorithms interpreted the utility worker's handwriting into typed text to complete a form.
During the first few years of Technology Fusions, my brother was diagnosed with pancreatic cancer and having been a cancer patient myself, we took our experiences with hospital rooms and doctor's offices to create another company, PatienTree. PatienTree embedded Mi-Co handwriting analysis technology to populate electronic medical records.
So, in my history, I have been a customer, a partner, and now an employee.
In your time here, how have you seen Mi-Co evolve?
I think the biggest change is in the platform itself. It's been redesigned and rearchitected, so I've been able to watch the evolution of the product from Mi-Forms to the Mobile Impact Platform. With this change, it really has delivered the end-user the capability to be very responsive in any industry, but certainly, in those that I am most familiar with including Public Sector, State Government, Utilities, Oil and Gas, Energy, Higher Education, and Healthcare.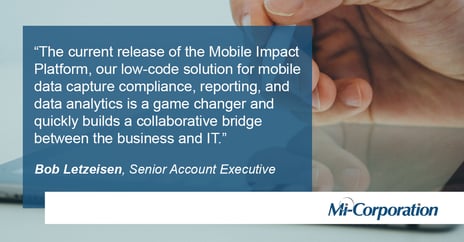 The current release of the Mobile Impact Platform, our low-code solution for mobile data capture compliance, reporting, and data analytics is a game-changer and quickly builds a collaborative bridge between the business and IT.
What's your favorite part of your position? What excites you most?
It's been the same for more than three decades. It's getting to meet new people, learning about them and understanding where their challenges are within their business; as a consultative account manager, finding, building and designing solutions that make an impact on their operations and bottom line.
Mi-Co continues to give me the opportunity to help customers realize their vision and configure solutions that are rapidly deployed. There is nothing more rewarding than talking with them after we've deployed our solution and hearing that we've more than exceeded their expectations.
What do you do in your spare time? How do you spend the weekend?
You might be surprised to hear that after 30+ years as a salesperson, I am not a golfer and I don't fish as often as I'd like.
Like Mi-Co, I am proud to be involved in my community. I am deeply involved with a wonderful organization, Emerald M. Therapeutic Riding Center, who deliver miracles to veterans and children with unique challenges. I am a board member, and I help with fundraising and events. I'm looking forward to our upcoming Derby Day event to raise money for this great organization. Another passion of mine is the Knights of Columbus at St. Mark Evangelist Catholic Church, who served more than 700 fish dinners last week as part of an annual fundraising effort during the Lent and Easter season. Unfortunately, due to COVID-19, the remaining Friday events have been canceled.
What's the last book you read?
The Patient Organization by Walt Brown
Having met Walt personally and participated in his EOS workshops, it was a great follow-on read after finishing Traction.
Who is your business role model?
I credit my work ethic to my father and my grandfather, who retired three times. The one thing that I've learned in my career is that hard work does pay off.