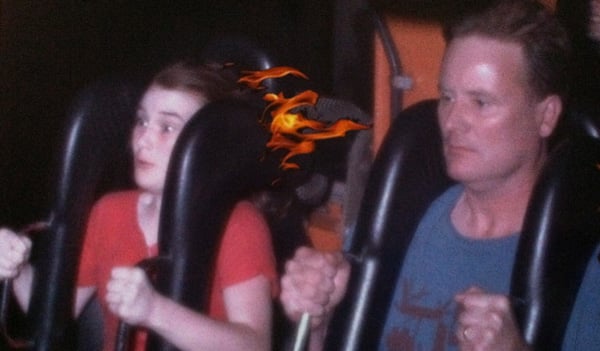 Last Friday, I took my family to Kings Dominion in Virginia. Kings Dominion is an amusement park with many thrilling rides including the "tallest, fastest roller coaster on the East Coast." After riding the Intimidator 305, I am not going to argue with them. It reaches speeds of 90 mph and has an 85 degree drop from 305 feet. Another coaster – the Volcano – accelerates riders to 75 mph before they 'erupt' upside-down from the volcano.
Kings Dominion is owned by Cedar Fair Entertainment Company. Cedar Fair is doing really well financially – they reported adjusted EBITDA of $391 million for 2012, and they expect over $400 million of adjusted EBITDA in 2013.
Imagine the liability concerns of amusement park owners with rides like these. Some injuries do happen despite the best efforts of park owners—Amusementsafety.org is a website that reports the safety incidents for most major amusement parks. While state laws and legal defense teams protect amusement park owners, safety is the number one concern.
Amusement Park Companies like Cedar Fair and Palace Entertainment have Daily Safety Checklists to keep track of the inspections and maintenance checks performed on all park equipment to maintain the parks' high standards of safety. At Palace Entertainment, key personnel are alerted by e-mail if inspections have not been completed by a specific time each day. This allows the corporate office and park management to respond immediately and avoid any safety issues that might arise due to inadequate inspections or maintenance procedures.
Electronic reports also track all guest safety incidents and provide the guest, park, and employees with digital records to facilitate insurance and legal paperwork. Guest information, including electronic signatures, can be captured digitally using Mi-Co's Mi-Forms, providing an effective record of any incident while relieving the parks and corporate offices of the expense of managing paper documents.
The Mi-Forms System from Mi-Co can provide amusement park companies like Cedar Fair and Palace Entertainment the following benefits:
Daily Safety Checklists and email alerts to designated personnel
Mobile electronic signature capture and capture of details to document guest incidents and safety and maintenance procedures
Robust and secure storage and retrieval of data like park name, park response, date, and time
Full audit trail support to maintain the integrity of maintenance and signed incident records
Electronic records to reduce storage space, processing time, and time to data availability
The Mi-Forms System works to provide amusement park companies with real-time notices and electronic records so that they can make quick, safe, and cost-effective corporate decisions. Secure audit-trailed records allow park operators to effectively deal with incident reports and potential liability issues. This ensures that all park customers at all locations stay safe and receive the best service and support from the park staff and corporate offices.
**Disclaimer – Gregory Clary is not an investor in Cedar Fair Entertainment Company, but he is seriously considering it.**