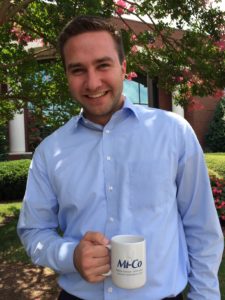 On Tuesday, July 22, Mi-Co welcomed our out-of-town Sales and Marketing team members from across the country to our Durham home office. Throughout the day, our team had the opportunity to listen to several speakers and participate in team building exercises. One of the most meaningful presentations came from Greg Clary, CEO of Mi-Corporation. He presented the history of Mi-Co over the last 14 years, detailing how the company has handled both achievements—in pen, form, and mobile data computing—and setbacks, such as the 2008 recession.
Greg taught about the key partners Mi-Co has worked with over the past 14 years, and how we have been able to maximize the impact of their organizations. From city governments to federal agencies, small businesses to multinational corporations, Mi-Co has been and remains committed to mobilizing business processes and disseminating the most accurate and groundbreaking mobile information.
Throughout the presentation, a common theme quickly emerged – the company's firm commitment to both its customers and its goals. As an intern working with both the technical operation and the sales and marketing sides of the organization, I have witnessed first-hand the high level of thought and care put into every support question that arises. From simple installation questions to large-scale product feature tweaks, both the Marketing and Tech teams convey their passion for making a positive impact on the world through mobile information.
All of these achievements stem from the company's mission and belief that mobile information can make the world a better place. When reflecting on the path the company has taken over the past decade and on my own time with the company this summer, I definitely have seen the pride everyone here at Mi-Co takes in their work, as well as the satisfaction that comes with a job well done.
As Mi-Co moves forward with tremendous growth over the next few years, I'm excited to see what other positive impacts the company can have on the world.
Ben Lee
Sales and Marketing Associate Intern