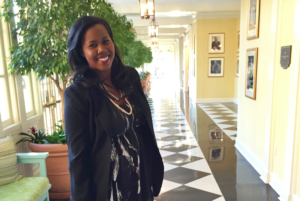 As I sit here on my last day at Mi-Corporation, I find it difficult to narrow down the countless experiences I've had, lessons I've learned and memories I've made. My perspective of the world of communications has changed. I have completely transformed as a marketer.
A Public Relations major within UNC Chapel Hill's School of Journalism and Mass Communication, my take on marketing was heavily PR based. I prioritized verbal communication, thinking that marketing was mainly refined to sales calls and business meetings. However, through this internship, I was able to pull myself out of the box that I thought marketing fit in, and step outside into unfamiliar, nonverbal territory. Thanks to my experience at Mi-Co, I now live outside that box.
The bulk of my role this semester as the Sales & Marketing Intern was to create graphic designs surrounding Mi-Co's different case studies, brochures and website pages. This is a skill I'd never thought I'd be comfortable doing. When I learned graphic design last semester, I struggled making simple, clean designs in the most time efficient manner. As a perfectionist, there was always something I wanted to add, to change or to completely erase. Through this internship, I truly have gotten the opportunity to really hone in my design capabilities, producing my works much more efficiently. My designs have become something I'm proud to show and I'm not terrified to do.
In making these designs or posting on social media and the website, I've learned to appreciate the indispensable value of consistency. While Mi-Co encourages creativity, I've recognized the value of keeping the company's designs, messages and style consistent. Not only is it a way to help audiences immediately recognize our brand, but it looks so much better on social media, our website, our brochures or anywhere an audience could encounter Mi-Co. I got the opportunity to really help build that consistent layout and brand recognition that will be used and valued for years to come.
The values I've learned and the opportunities I've gotten through this internship wouldn't have been possible without the faith and trust of my co-workers. The marketing manager, Michaela, truly helped foster the trust and confidence I needed to successfully complete this internship. Her, along with the rest of the employees at Mi-Co, have created such a positive environment in the office. Everyone here is focused on positively attaining growth, innovation and results. I have never been in a workspace where I've heard as much encouragement and accolades as I have here.
In all, I would say I've grown infinitely as a professional through this internship. Beyond the wonderful office of people I get to work with, I have a much better grasp of how diverse marketing can be. I've learned to prioritize all the varying types of communication be it written, verbal or graphic. If you love creative, positive and productive environments where you can constantly learn and grow, Mi-Co is the place for you.