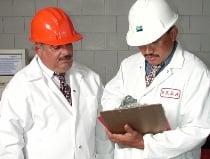 Throughout 13.5 years at Mi-Co, government compliance inspectors at federal, state and local levels have used Mi-Forms to monitor compliance and even increase revenue. Organizations from U.S. Internal Revenue Service to U.S. Department of Agriculture to Mississippi Department of Health have seen important productivity gains. Highlighted below are three major reasons that government compliance inspections, and related internal commercial quality and compliance audits, are great for Mi-Forms solutions:
Field and offline usage requirements – Government and commercial inspectors are often mobile – away from their desks. Government inspectors routinely visit wholesalers, retailers or end users. They cannot rely on wide area wireless communications in the field, including for reasons of both coverage and security. They want to conduct inspections and record data using mobile devices, even while offline. When connectivity is achieved in the office, at home or in a hotel room, data can be uploaded.
Custom requirements – Because regulations vary from state to state, time and again we see custom databases on the back-end in government organizations, built on top of SQL Server or Oracle. Because Mi-Forms is fully customizable at the field, business rule and data integration levels, it makes the perfect front end solution for these custom databases. Rarely do we see off-the-shelf solutions which include a database for government compliance application customers, and when we do, a high degree of customization is going on behind the curtain.
Paperwork backlog/record keeping – Government compliance inspection departments must keep inspection data in a database for fine levying, court appeals litigation and FOIA requests, among other reasons. Quality and compliance organizations must keep records for internal or government audit purposes. Time and again we see that business processes include paper form-filling, express mailing of paper to central offices where data is keyed, and a backlog of forms waiting to be keyed. Mi-Forms eliminates these steps and expenses.
If you are an organization conducting internal quality or compliance inspections, or you are a government organization, contact us for an assessment of how we can help you.