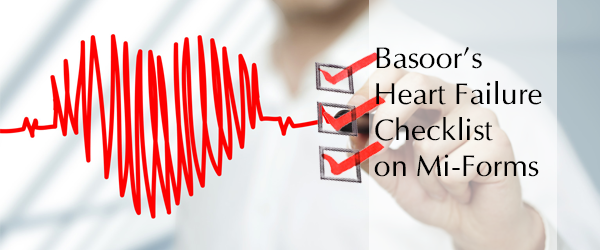 Dr. Basoor doesn't 'skip a beat' while demonstrating his Heart Failure Checklist on Mi-Forms
I had the pleasure to attend the Microsoft Health & Life Sciences Executive Summit in Chicago this week as an invited guest. The theme was around scalable patient engagement and related technologies that could have true impacts in healthcare. Another invited guest, Dr. Abhijeet Basoor, Chief Cardiology Fellow at St. Joseph Mercy Oakland Hospital, discussed his famous heart-failure checklist that was highlighted by the American College of Cardiology (ACC) for reducing readmission rates at hospital.
Dr. Basoor showed how his checklist could be more scalable, efficient and enable information sharing with colleagues when made electronic, and showed a version of this checklist on a Surface Pro tablet using Mi-Forms, best-of-breed mobile-forms software!
He had just 10 minutes or so to train on the Mi-Forms mobile-form, due to a flight delay, but did a rock star job with the demo in front of the executive audience of top healthcare organizations! It was great to be there to coach him, watch this session and hear about some of other innovative technologies Microsoft partners are bringing to bear in the market to make a difference in healthcare!