In honor of Chris DiPierro's Twentieth Anniversary with Mi-Co, we had a great virtual chat where he shared a bit about his background, what he likes most about his job, and his interest in curling. I was fascinated to learn that he created an astronomy "app" before apps were a thing.
Tell me a bit about your background? And getting your start?
Back in college at the University of Maryland, one of my roommates worked for AOL. He had a little too much disposable summer income and bought a Palm Pilot. At that time, pre-smart phones, nobody had a really great use for it other than organizing contacts. Eventually, Palm spun off and had an open architecture, which meant that they were supporting developers to write for their devices. Keep in mind, that this was long before the app stores of today. An enthusiast community started around this, and both he and I, who were in the computer science program, started writing code.
I started by writing a stopwatch because it was relatively easy. One of my hobbies was astronomy and I thought it would be really neat to create star charts, where you'd input your current location, current time, and see what the night sky would look like. At that time, nothing like that existed. During my senior year, I worked with a couple astronomy professors to get their feedback and started building that. Following graduation, I accepted a full-time position with IBM and moved to North Carolina. On evenings and weekends, I'd work on the astronomy software, which became known as Star Pilot.
What is your favorite part about your position? What excites you most?
I've had the opportunity to work with some really smart people doing a lot of smart things. As an example, we're doing work on our authentication to support one of our customers, USDA. Ultimately they support a standard that we're going to adopt.
While the standard itself isn't brand new, it is brand new to us. We're creating a mode within the Mobile Impact Platform that allows them to use this authentication standard. It's rewarding to work with people who embrace technology and share a level of intellectual curiosity, which is one of Mi-Co's core values. Being able to communicate with these folks day in and day out is by far my favorite part of this.
What have been the highlights of the past twenty years for you?
Part of the reason that I think people go into software development is that they want people to use their stuff, inherently making life easier and simpler. And to that point, to have a series of products, actual generations of products, that have progressively gotten better year over year, helping tens of thousands of people do their jobs every day is a huge highlight for me.
While it's exciting to get the first iteration of a new product out the door, developers are thinking of how to make the next version even better. Overall, it's in having the ability to create and provide our customers with a set of products that make it easier, more efficient, and more productive for them to perform their jobs.
So now I have more, get-to-know-you, personal type questions. Like what do you do on the weekend?
Well, these days, I stay at home and social distance from everybody. Primarily, our greatest hobby for both my wife and me is curling. We also tend to meet up with friends to eat, catch a movie, or visit a brewery.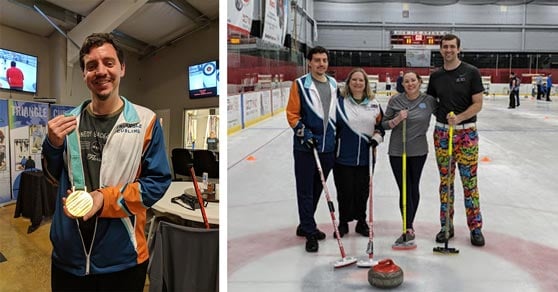 How did you get into curling?
I think in the same way that everybody gets started with curling, in that you see it on the Olympics and think "Boy, I could do that." It didn't become a hobby for us though until a facility was built in our area. And from there it was an all-in sort of thing. Last year I ran for the Board of Directors, and now serve as the Vice President of the Club. And it now gives us a good excuse to travel and visit places we haven't seen. I think we've participated in events in nine different states.
Do you have an inspirational quote?
I try to tell myself every morning that today is going to be a good day, and start off on a positive note and go from there. One quote that has resonated for me is "Live so that when people think of fairness, caring, and integrity, they think of you." – H. Jackson Brown, Jr.