By Bob Letzeisen
Last November, the National Association of State Chief Information Officers (NASCIO) released its survey results of the top issues facing its members in the coming year. Around the same time, the Center for Digital Government (CDG) also released a report with many parallels—including the listing of "security" as the #1 priority for government agencies.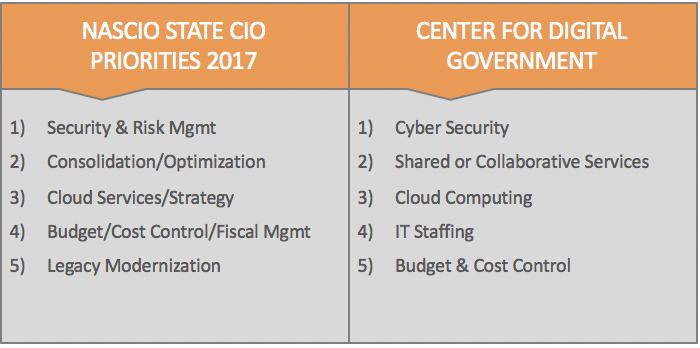 It's no surprise that security is at the top of both lists, when you consider the significant, high-profile breeches that occurred throughout 2016 from the hacking of the DNC to another big yahoo breach that happened back in 2013 but came to light just last December with 1 billion user accounts compromised (the largest data breach in history!).
It's a simple fact that today's CIOs require a mobile platform that meets internal IT security and regulatory requirements 100% of the time. It might sound simple with the technologies available to us today, but not every mobile platform is created equal.
A sound mobile strategy has long been considered mission critical. Since corporate back office systems like ERP's, WMIS and MRP's demonstrate a higher payback when they are front ended by a robust mobile data capture platform, deployment of a mobile impact platform and workflow rules engine has worked it way to the top of many CIO's list for this year.
When I'm out meeting with customers (and potential customers), IT security behind brick and mortar DMZ's and Firewall's is one of the greatest challenges we discuss. On top of that, IT professionals face additional requirements when technology is extended out to the point of service and becomes a vital tool for a mobile workforce.
By utilizing a proven secured mobile impact platform such as , Mi-Corporations Mobile Impact Platform Corporate IT can focus on securing legacy back office systems of records that may be the most vulnerable. Mi-Corporation's secured mobile platform has been vetted by some of the most respected IT departments from both the private sector as well as the government. Because of that, our prospects and customers have peace of mind knowing that the product solution and Mi-Corporation's best practices continue to meet the security demands of our own staff, the regulatory and certification bodies, auditors, and as importantly, our clients' own stringent internal software practices.