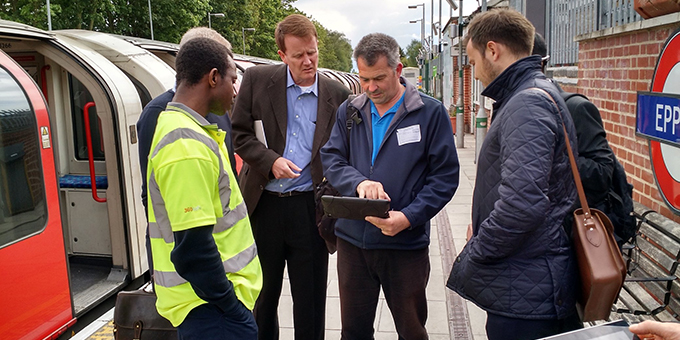 Digital transformation… it's a term that's getting a lot of buzz these days but the concept is nothing new. Think back to the 80's when we saw businesses shift from using paper processes to personal computers. Or the late 90's when the retail market began to see a huge transition to e-commerce and online shopping. Why make a trip to the mall when you can shop on your sofa in pajamas, right? Now, over the last 10+ years, the saturation of smartphones has brought just about every aspect of what we do into the palms of our hands—but not every business has kept pace with this digital demand.
Years ago, one of my early business mentors shared some great insight with me during a business review. A Division President within GE, he said to me "Will, do you know the difference between the haves and the have-nots?" When I answered in the negative, he coolly replied "It's the dids and did nots." Simple words, yet profound—I wrote them down on a memo pad and left that note taped to my desk for the next 10 years.
I thought about his words, as I have many times over the years, while recently trying to sift through all the jargon on the web about digital this and digital that. It hit me clearly that we now live in a world of digital 'haves' and 'have-nots.' And what trends do we see among those who chose to make the digital journey (all in!) and those who did not, or perhaps will not. The chart below from McKinsey shows, in a nutshell, that digitization done well leads to agility and agility done well leads to profit.Digital Transformation – are you a digital 'have' or 'have-not?'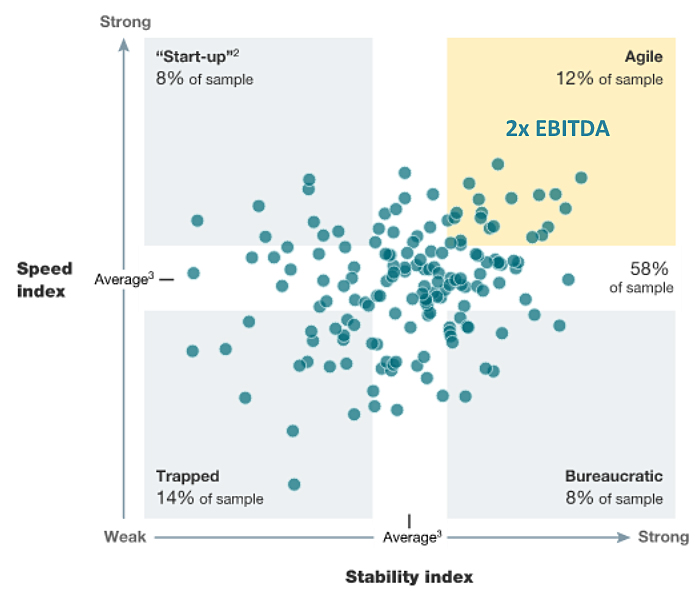 The chart is about process speed and stability. On the X axis is stability and the Y axis is speed. It's a typical scatter gram of results, but the big takeaway is that the companies who invested in tech speed process not only sped up, but also made their processes more stable (repeatable and high quality). Of the 161 organizations represented in the chart, few excelled in either relative speed or stability—58% hovered near average. Those represented in the top right "agile" quadrant had 2X the earnings for their peers!
On the flip side of our "top right quadrant," the story is a bit more draconian, but no less real. Check out this other chart from McKinsey below.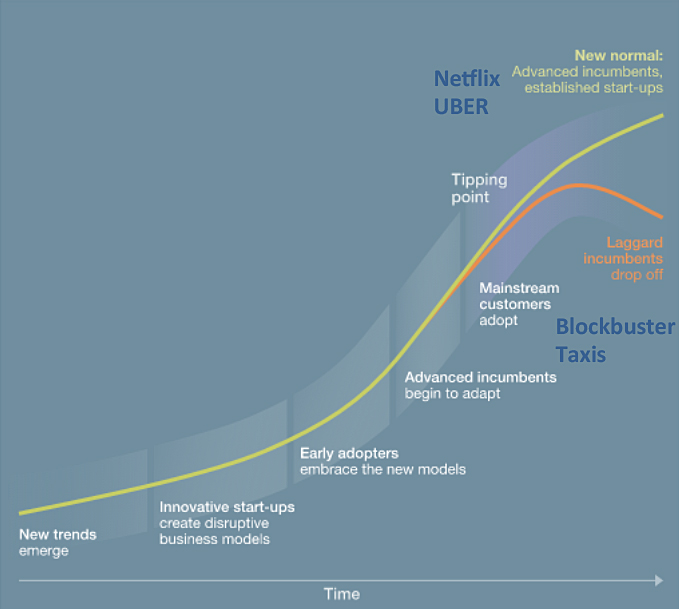 Think about Blockbuster video or traditional taxicab services. In today's digital world, organizations must change or die—and there's no doing it halfway. As new trends emerge (think Uber and Netflix), it's the innovative startups that create disruptive business models. As early adopters embrace new models, it's the advanced incumbents in that category that begin to adapt and change. By the time mainstream customers adopt these new, disruptive models, only the most agile and advanced incumbents will survive. It's 'do' or 'do not' to shape your own destiny.
One Mi-Corporation customer that has fully embraced digital in every aspect of its business is Transport for London (TfL). An iconic brand known across the world, TfL has invested heavily in many areas of digital transformation—including their mobility solutions for which Mi-Co is a proud partner. For TfL and its customers, gone are the days or stuffy ticket kiosks and paper pushing. TfL has armed its ticket agents (now called Ambassadors) with iPads running the Mobile Impact Platform and other tools—putting them out among their riders in a much more hands-on supporting role.
Ambassadors can now walk around a platform and offer ready assistance to those passengers with a glazed look in their eyes or anyone who simply needs some help. Through their mobile devices, now all the information they need is right at their fingertips. Train status info, airline flight times, and the ability to view and report on incidents are all accessible in real time. And speaking of incidents, the mobile forms technology that TfL has implemented has saved the company an incredible 2 hours per incident—that's up to 20K work hours per year! And this is just one of 30+ that they have implemented.
TfL's motto is "Every journey matters" and the company's investment in digital has helped them deliver on that brand commitment. With mobile inspection forms, TfL is able to ensure that its stations, trains restrooms and overall facilities are properly maintained in the most efficient way possible. With everything digital, the entire operation simply operates more efficiently and accomplishes more than ever before.
TfL is just one example of a company that's made a total commitment to digital transformation… it's a digital 'do,' if you will. It's never easy to make such sweeping changes to the way we do business—but it's also never been more necessary to our survival than it is right now.
Is your company a have or have-not and where will you be six months from now?