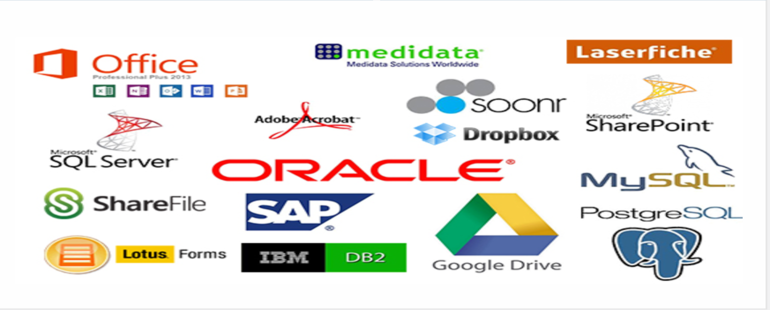 Business managers are challenged more than ever to deliver value with an ever-expanding list of requests and features to drive their business forward. With the high demand for mobilizing business processes, integration with existing and legacy backend systems becomes a daunting task. With a limited set of resources and the constant challenge to make backend meet mobile, business managers are quantifying integrations as their top barrier to starting a mobile data solution. A 2016 Enterprise Mobility Exchange report reveals that 47.7% of business managers cite the biggest challenge of implementing a mobile data solution as "integration with legacy systems."
What are some integration challenges and how can businesses manage them without distracting from their core mission?
Two core challenges arise when organizations are faced with integrations:
Challenge #1: Variability of Existing Systems
Some organizations may have hundreds of existing systems that require some form of integration—each having their own API and specifications.
Challenge #2: Finding Resources with Integration Skillsets
Employees who are familiar with these systems and integrations are tasked with handling complex integration transformations, routing, updates, security requirements, etc. and so a special set of skills is required.
Handling integration tasks can sometimes account for over half of a mobile data project effort. Reducing the impact of these two challenges will have a large impact on getting a successful mobile data project under your belt.
Facing any challenge can be easier when you have partners who've faced—and tackled—similar obstacles.
We've implemented numerous integration projects with customers who are realizing benefits and future extensibility of their integration projects with us. In these integration projects, we have found that having a comprehensive mobile data solution plan that includes integration has been the most useful tool in aligning mobile data solutions with core business focus.
A successful mobile data solution plan should include the following considerations:
Approach in Phases
Break out goals into milestones.
Keep milestones SMART (Specific, Measurable, Achievable, Relevant, and Time-Based)
Keep milestone accomplishments on a periodic duration, such as a quarterly basis
Approach with a Single Focused Business Process
What are the most pressing business processes that would benefit from a mobile data solution?
Select one with the most reasonable outcome in a single milestone phase
What kind of system(s) currently retains data for this business process and what are the integration tasks?
Update Plan and Update Phases
Stick to the current milestone
Adjust future phases and milestone based upon your experiences
Measure your ROI
Identify metrics and take a baseline metric before starting a project
Compare before and after for KPI and ROI
Select a Partner Who Knows Mobile Data and Integration
When selecting a partner, are you reassured that they've experienced integration challenges before and succeeded at meeting them? Do they have resources who are experienced with your integration requirements? Can they provide assistance with your mobile data solution plan? Can they assist you with measuring your ROI? Do they enable your mobile data solutions to align with and excel at your core business focus? The answers to all these questions will be critical to finding the right partner to help you achieve success.
Build on Mi-Platform, the leading COTS solution for Mobile Data To ease the pain of integration, Mi-Platform has the right tools to successfully manage your integration needs. For the citizen developer, Mi-Platform provides Frictionless Data Replication (FDR) which easily matches backend data sources to fields on your mobile forms. FDR is built on our Data Replication component which streamlines backend data being available at the fingertips of your mobile data workforce. For further extensibility, Mi-Platform provides a suite of more than 100+ APIs so that IT professionals may completely automate and manage their mobile data processes.
With Mi-Corporation as your partner, building on Mi-Platform and implementing a Mobile Data Solution Plan, you'll be on your way to augmenting your core business with a powerful mobile data workforce!