Earlier this month I had the opportunity to attend Esri's Developer Summit in Washington DC. Aside from a chance to visit the nation's capital near where I attended school (go Terps!), this provided a great resource for providing details on how to more tightly integrate with Esri's ArcGIS Platform. Geographic Information Systems (GIS) can provide a way to visualize all sorts of data from weather information, to transportation, to light pollution. Esri is a leader in this field and at Mi-Corporation the desire to provide more and better data to our customers is a priority.
The summit focused on how to create customized maps, add features to those maps and then integrate them into both mobile and desktop applications. Esri provides a suite of SDKs designed to drop into web, iOS, Android, and .NET applications. These SDKs communicate with Esri's REST based APIs as well as offline services in order to allow users to display data on phones, tablets and other computers. A focus on their development community was evident not just from the software they've created, but from the large community supporting it.
Feeling energized and ready to use what I learned, I began working to implement Esri's .NET control in a Mi-Forms form. Using their tutorials, I was able to create a new map form field and provide services from that map such as forward and reverse geocoding, adding graphics, and even get driving directions. The end result was the form below that allows a user to plot inspections on a map and manipulate that map in order to visualize what's been done, what's left to do, and how to get where you need to go: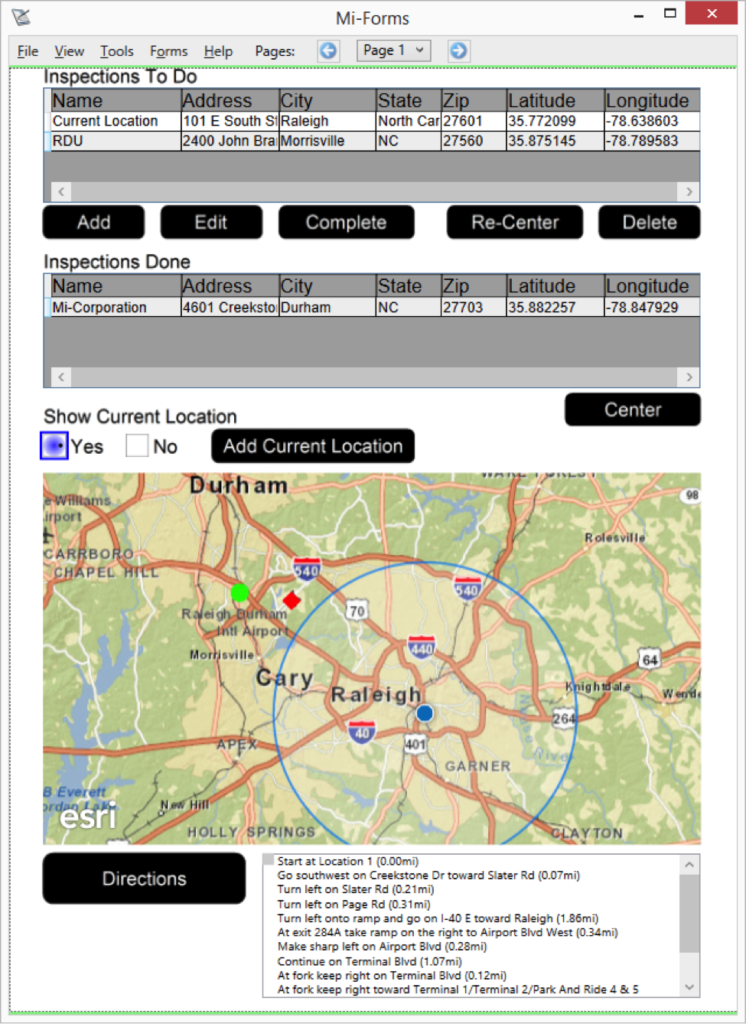 This is a preliminary implementation in Mi-Forms, but it shows me that adding powerful GIS services from Esri into our platform is sure to provide a needed and useful feature to our partners and customers. We will be working hard on further integration with Esri in the near future both on Windows and in our iOS/Android offerings. If you're interested in seeing how it shapes up, I would like to personally invite you to our Mobility Summit where you can have a hands-on with the technology. For now though, I wish you safe travels and as you glance at a map or GPS, think of what data would look good on it.