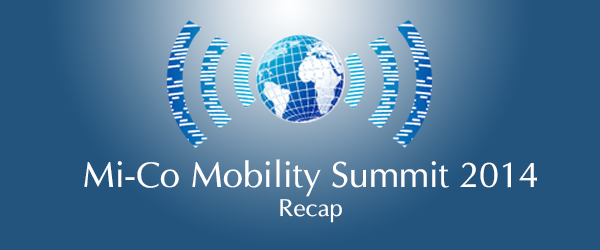 Greetings from Durham! Whether you traveled from near or far we hope you made it home from Mi-Corporation's Mobility Summit 2014 safely.
We would once again like to thank our sponsors, partners, customers and friends for making our conference such a huge success. For those of you not able to attend, we missed you and hope you can attend next year.
This year's event was packed with mobility market research information, great networking and Mi-Corporation customers sharing stories of how Mi-Forms helped them positively impact the world. Additionally, the Mi-Forms mobile forms solution helped their employees become more productive, capture data more effectively and accurately and gain access to revenue faster!
We would like to take this opportunity to thank Noah Sheeley of Zimmer, Inc., Josh Kumpf and Liz Wooley of the IDCRP; Devon Ritch of Doyle Security Systems, and John Nicklin of Waste Strategies for their presentations. Additional thanks to Oie Osterkamp from our featured charity, Ronald McDonald House of Durham, who gave a heartfelt presentation on the amazing service "the House" provides to our community.
The Mi-Corporation Technical Team, as always, played an invaluable role at the conference. Chris DiPierro, Director of Software Development, announced plans for three new Mi-Corporation products. We are excited for the May release of Mi-Corporation's Mobile Field Inspection Solution, Query Management Solution, and Mi-Enterprise Apps. Chris also presented new features in Mi-Forms v10, including official support for smart phones. Attendees found face time with the Technical Team & a panel by Mi-Corporation Mobility Experts sharing best practices lessons to be invaluable.
Our keynote speaker, Janet Hill, entertained and educated us on mobility from the boardroom to the consumer and our mobility thought leader, Tom Suder from Mobilegov, highlighted how a government digital platform could better serve the American people. Bryan Lesko from Microsoft gave us insight into Microsoft's Mobile Roadmap & offerings.
The solution showcase was a great success! Some of our featured presenters gave demonstrations of their Mi-Forms mobile forms solutions, as did Travis Snodgrass and Dwight Seal of NC Department of Agriculture and Hal Petschke of BizTech Solutions.
We would like to give a big shout out and thanks to all our sponsors! Mobility Summit 2014 would not have been possible without our sponsors: Motion Computing, Image Source, NewWave Technologies, Panasonic, Texcel, and Power Appointment Setting.
If you were able to attend the conference we kindly ask you to take our survey. We do value your opinion and seriously take it under consideration when planning our events.
We have posted the presentations from the Mobility Summit on this page below:
External Speakers
Bryan Lesko - Business Mobility with Microsoft
Doyle Security Systems Sales Order Entry System - MiCo presentation
IDCRP -Enhancing the Healthcare Mission with Mobility
Ronald McDonald House -Mi-Co Presentation
Tom Suder Mi-Co Presentation 2014-04-07 revised

MiCo Zimmer Mobile Data Capture Presentation
Mi-Co Presentations
Mobility Summit 2014 - Mi-Enterprise Apps and other new products
Mi-Corporation Mobility Panel - Day 3, MMS 2014 (Pandiyan)
Making the Business Case for Mobility - Day 3, MMS 2014 (Pandiyan)
Mi-Corporation Market & Corporate Updates - Day 2, MMS 2014 (Pandiyan)
See you in April, 2015 at the Mi-Corporation Mobility Summit 2015!