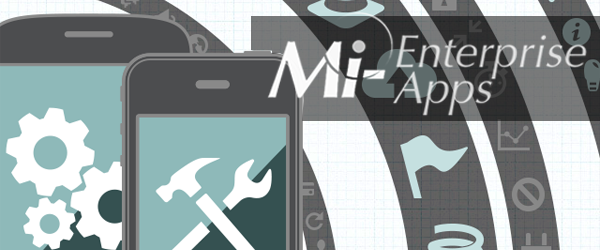 One of the positive aspects of Mi-Enterprise Apps is the opportunity for mobile app developers to bring their own familiar coding skillset and gain access to enterprise-grade features such user authentication, data workflow, and offline data access.
At Mi-Corporation, the development team is working to develop sample Mi-Enterprise Apps on a variety of platforms to demonstrate this capability.
Cordova Support:
One of those platforms is Cordova where a mobile web developer can create an app that is targeted for both iOS and Android and have access to device resources such as the camera and file system. To support the Cordova platform, we have a number of tools to facilitate development:
For Mi-Enterprise Apps, we have the Mi-JS library - a set of JavaScript libraries (from TypeScript if you're interested) that support interaction with the Mi-Enterprise Apps Server. This makes it easy for JavaScript developers to get started on using services available from the Mi-Enterprise Apps Server.
For Data Replication, we have Data Replication Cordova plugins for both iOS and Android. This enables an app to retrieve data from a Data Replication server and store locally. The data is periodically pulled in the background while online. While offline, the Data Replication plugin also offers access to the local data. This has enormous advantages for your mobile workforce where an Internet connection isn't always available.
Selecting a UI Framework:
As a Cordova developer, one of the challenges in developing for both iOS and Android can be the UI design framework
for the app. Luckily there are several mobile web design frameworks available now. Our criteria for choosing a framework for the sample Cordova app included ease of use, high support for iOS look and feel, and support for common controls and panels. The library also needed to be free so that other developers could use the sample Cordova app project and continue development without incurring any licensing fees or subscriptions. This helped narrow down our choices to jQuery Mobile (www.jquerymobile.com) or Framework7 (http://www.idangero.us/framework7).
In the end, we selected Framework7 which has worked out well so far. With support for templating, rendering large lists has not been an issue. The number of controls and 'widgets' were extensive and full featured. With a focus for the iOS 7 UI and UX, Framework 7 looks great so far. Although Framework7 was designed with the iOS 7 design theme, the app also performs well on Android.
Summary:
While building a sample Cordova app for Mi-Enterprise Apps and Data Replication, we selected the Framework7 UI library because of its versatility, ease of use, look, and cost. This will help our developer community get started with Cordova based Mi-Enterprise apps. Keep in mind that developers are not limited to using Framework7 or Cordova - Mi-Enterprise Apps supports a variety of mobile platforms - so that developers have choices to building great mission-critical apps for their businesses.
Sample: