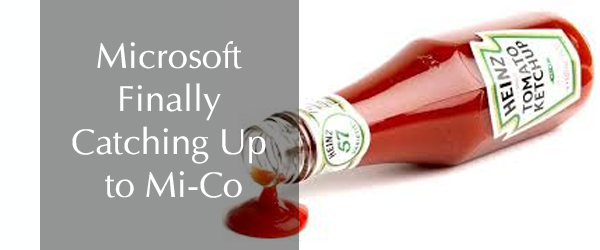 During their recent Build Developer Conference in San Francisco, Microsoft unveiled that they are now providing developers with the ability to write a single application that can be used across multiple devices running various versions of Microsoft Windows: desktops, tablets, phones, etc. As a developer, this is a great capability to have. However, it's also something that Mi-Corporation has provided for years already with the robust Mi-Forms platform.
Using the Mi-Forms Designer, it is possible to build a single form that can be deployed and accessed within our Windows Client application, from any modern HTML-5 compliant browser, or from within our iPad and Android Apps. And with the up-coming release of Mi-Forms v10, the iPhone and Android phones will be officially supported, as well. This level of flexibility is becoming more-and-more important as businesses move towards BYOD scenarios across numerous industries and have a wider range of devices and platforms that they need to support.
As you may expect, there are considerations that need to be taken into account when designing a form to effectively target multiple platforms. So it is important to think through and plan out your various usage scenarios before you begin building your forms to ensure that you create a form layout that will work effectively across your targeted devices and platforms. But you can rest assured that no matter which platforms you need to support, the Mi-Forms Designer and the experts at Mi-Corporation can provide the capabilities and knowledge you need to be successful.
-Mitch Hamelau