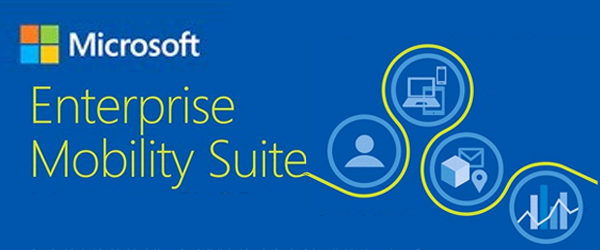 Given that the 2015 Microsoft Worldwide Partner Conference wrapped up last week, I thought it would be interesting to spotlight some Microsoft mobility technologies in use around the world.
The Enterprise Mobility Suite (EMS) from Microsoft is a mobility management platform that allows organizations to control user access/identity (Azure Active Directory), and secure devices & data on mobile devices (Windows InTune, Mobile Device Management) & more, within the same System Center interface organizations use to manage their desktops & laptops.
Let's take a look at two implementations of the EMS in action:
1) St. Luke's Health System, USA – St. Luke's Health System, one of the largest nonprofit health systems in Idaho, decided to rollout mobile devices to clinicians and other health workers to allow anywhere, anytime access to their central Electronic Medical Record (EMR) system, Epic, and fit into the fast-paced, mobile workflows of these professionals.
The system is enrolling about 2000 smartphones and 150 iPads into EMS to manage all these devices, secure their data, control access and so on, utilizing Windows Intune, Azure Active Directory Premium and more. St. Luke's also leverages technologies like OneDrive for Business and Skype for Business to share content with these knowledge workers and provide interpretive services in 40 languages, boosting communication and collaboration across the system.
2) Mitchell Shire Council, Australia – Mitchell Shire Council consists of 470 full time employees and takes care of 2,864 square kilometers of scenic beauty in the Goulburn River Valley region in Australia. About 250 of this staff are mobile ranging from home health nurses to road engineers, and need to access, create & share data from their mobile environments. The council has deployed about 80 iPhones & iPads to help this user population effectively perform their functions utilizing the Microsoft EMS to secure these devices & data, provide access controls and opportunities to collaborate & communicate.
The other interesting development these case studies highlight is that Microsoft has opened its platforms to a multi-device/OS world, supporting iOS devices from Apple and Android devices from Google, Samsung and many others. It's announcement of Office 365 Apps for iOS & Android also support this multi-platform world and allow organizations to get the most productivity on the platforms of their choice, while leveraging the security & familiarity of how laptops & desktops are being managed in the enterprise.
Stay tuned for more from Microsoft regarding mobility initiatives, including Windows 10 news (releasing in late July) and other exciting developments!