The North Carolina Department of Agriculture (NCDA) has been a long time customer, deploying a mobile forms-based solution for pesticides inspections more than ten years ago. That solution designed for pen-centric Windows-based Tablet PCs has helped to keep the citizens of North Carolina safe. The thousands of data points captured in the field and approved in the office ensured that pesticides are licensed, stored, and applied in a safe manner.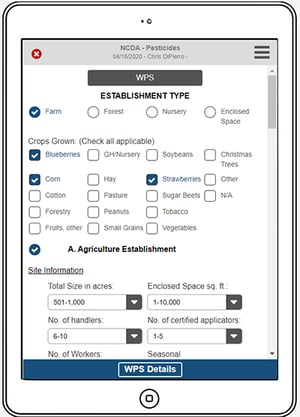 Now, years later, it's time for a refresh. In the intervening time, we've deployed numerous solutions to other State Agriculture departments including Virginia, Nebraska, Arkansas, West Virginia, New Mexico, and Georgia and more. We've released a new product suite within the Mobile Impact Platform consisting of NextGen Designer and the Mi-Apps field data capture tool. Within NCDA these tools have been used to expand field data capture in the areas of Nursery, Apiary, Animal Welfare, Cervid Farming and Sleep Products, among others. It was time for Pesticides to apply some of the best practices developed for those programs.
And so, that's exactly what's been done. NCDA Pesticides has been working with us to move their forms to NextGen Designer and the Mobile Impact Platform's Mi-Apps. Along the way, they've added some wish list items they've been seeking for a long time.
Among them is the idea of having a package (bundle) of forms. This concept came from our neighbor to the north, Virginia, who have rolled out a Pesticides solution based on the Mobile Impact Platform. Within that solution, rather than inspectors completing individual forms for individual tasks such as WPS, Bulk Tank Inspection, NOI and so on, a single form packages all tasks together and they are submitted as a bundle. This enables an easier inspector workflow and a more centralized approval process.
The Mobile Impact Platform has also equipped inspectors with more information that they need onsite. As an example, a common question for an inspector is how many credit hours a licensed pesticide applicator or handler has completed. This previously required reaching out to the home office for verification. Now, using the Mobile Impact Platform's Data Replication Services, this information is available on-device for the inspector to relay immediately.
Additional "wish list" items have also been implemented ensuring that the data capture process is complete and accurate around such items as Inspection Type, Inspection Reason, Facility Function, and Use Site. This ensures that inspectors are taking the proper steps in the field and reduces the possibility of an inspection being rejected, requiring a second visit which would waste an inspector's valuable time repeating tasks that could have been done the first time.
We're happy to work with NCDA Pesticides to help bring their solution to the modern Mobile Impact Platform and to provide increased value and safety to the state of North Carolina.