This month, Mi-Corporation had the privilege of attending the International Bridge Conference (IBC) on June 6th through the 20th at the Gaylord National Resort and Convention Center in National Harbor, Maryland. The IBC is the pre-eminent conference for the bridge industry in North America, Europe and Asia. The Engineer's Society of Western Pennsylvania (ESWP) annually present the IBC to over 1,500 bridge owners and engineers, senior policy makers, government officials, bridge designers, construction executives, and suppliers from the states and internationally. This exclusively volunteer planned event provides the furthering of education and networking opportunities to all members of the bridge industry. From technical sessions, workshops, seminars, committee meetings, and over 100 exhibitor products, it was an exciting show.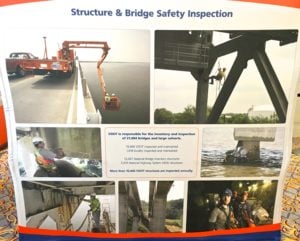 Pictured are two banners from the Virginia Department of Transportation at the International Bridge Conference. This information highlights bridge inspection statistics, procedures, and business goals.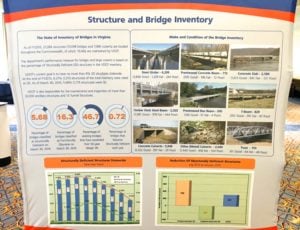 Mi-Corporation continues it's foray into the transportation space as a market leader. With many inspectors and maintenance workers in the bridge space, mobile enterprise apps are a key requirement for productivity. The future is bright for bridge inspectors as it includes 3-D models, drones, and electronically tagged assets. To learn more about Mi-Corporation's work with TfL, click here.