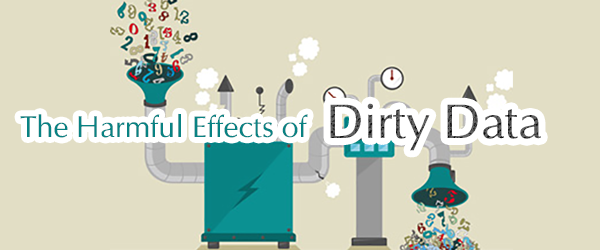 Data is the lifeblood of your company. In our technologically mobilized world, data is the lifeblood of any major business. Data helps you work better, smarter, and reach your target audience. But dirty data hinders this process and corrupts workflow.
What is Dirty Data?
Dirty data is bad, misinformed, out-of-date and inaccurate information. People, businesses, addresses, phone numbers – this basic information is constantly in flux and it all has a direct impact on your company's bottom line.
The Gartner Group reports that poor data quality depletes millions of dollars annually (on average) in wasted resources and expenses on operational inefficiencies, missed sales and unrealized new opportunities.
A Forrester research study discovered that a mere 12% of companies actually use data-driven intelligence to guide vital business functions and strategies.
NetProspex finds data decays at an average rate of 2 percent per month, which means you can expect 25 to 30 percent of your organization's contact data to go bad each year under normal circumstances.
Experian states "Inaccurate data has a direct impact on the bottom line of 88% of companies, with the average company losing 12% of its revenue."
Fathom claims "Dirty data, or poor data quality, costs U.S. businesses $600 billion annually."
CSC published "More than 70% of data is created by individuals" and "Global data production will be 44 times higher in 2020 than it was in 2009."
Forbes Insights survey results "Only a quarter (24%) of all respondents surveyed feel that customer communications and data gathering systems are fully integrated, while 13% report no level of integration at all.
Dirty data embodies the saying: "Garbage in, Garbage Out", and many businesses have taken initiative to keep dirty data from polluting their data-stream. According to Experian, 91% of U.S. organizations have invested in data-quality initiatives in the past year. As the amount of digital data we gather, receive and utilize in everyday dealings increases, the concerns surrounding dirty data will only continue to grow.
Some statistics to consider:
47% of all data is being collected through mobility – Mobile Applications and Web Sites.
53% of organizations surveyed by Forbes Insights, on average, use 36 different data-gathering systems making it difficult to keep track and keep multiple systems in sync and up to date.
By 2020 a great deal of the data we depend on for strategies and tactics will be rendered useless if no corrective measures are taken, (according to CSC projections of data growth rates). To stop this, many companies are taking preventative action. Recognizing and dealing with the problem of dirty data has become a major point of concern for many companies and can yield a significant ROI if resolved.
The Benefits of Clean Data:
Clean data can help your business increase efficiency, cut costs, reduce risk, enhance customer relations, and help you make the most of your information.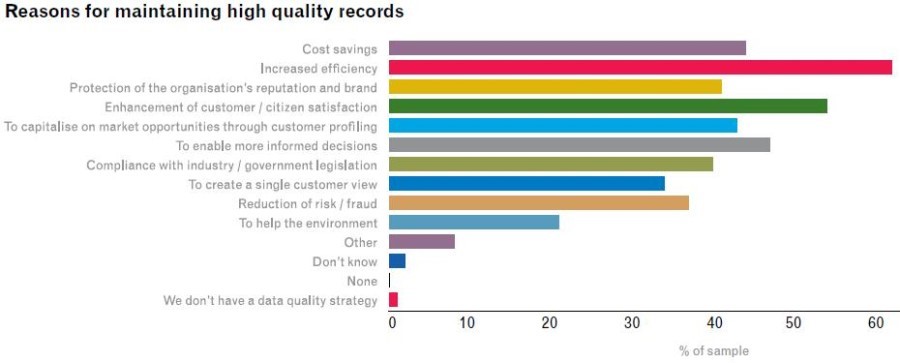 (Source: D&B The Sales and Marketing Institute)
Want to go clean?
Mi-Corporation, the industry leader in Mobile Enterprise Computing, can help push you in the right direction.
Mi-Corporation's Mi-Forms delivers a significant value proposition and cornerstone to any data quality solution. It all starts with new input and the opportunity to correct existing errors on the fly without creating a separate data quality task.
Mi-Forms' business rules feature and built-in abilities to integrate with your central system, auto correct data, reference look up tables, allow overwriting of old data, and real-time data checking and feedback – all work to support only the input of quality, clean data into your company's data lifeline.
This kind of data-security, coupled together with Mi-Forms' ability to parse and export data capture packets to multiple back-end systems real or near real time, eliminates the need to manually scrub up or down line systems based on newly captured or corrected data from the field.
Stop dirty data. Get clean. And keep your business healthy with Mi-Corporation's mobile data solutions.