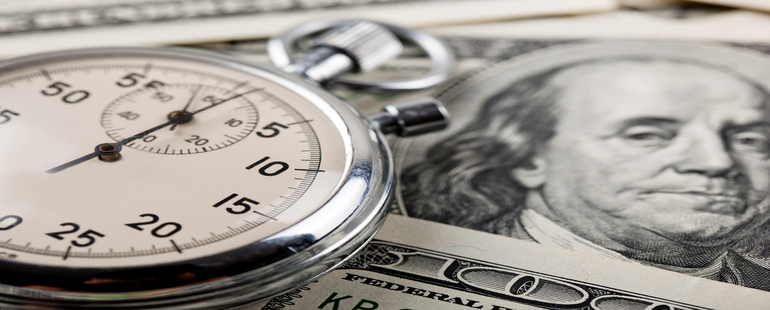 When it comes to RMAD, Time is Money
In Enterprise Mobility Exchange's Q1 2017 recap, the topic of RMAD—or Rapid Mobile App Development—is front and center in the discussion of how these new platforms are taking over the "costly, lengthy, and productivity-crushing enterprise app development" tools of the past (namely, MADP).
Refresher, what exactly is MADP? As defined by the Edison Institute, MADP is an integrated software product for the creation and support of applications to run on mobile devices that include some or all of the following capabilities:
Develop – creation of apps
Build – support a variety of Mobile OS' and devices
Test – ensures consistent behavior across multiple OS's and devices
Deploy – manage the delivery of apps to devices
Secure - user authentication and data systems authorization
Access – centralized integration point
When the enterprise discovered the enormous value in mobilizing critical business processes efficiently and across multiple operating platforms, new RMAD tools promised reduced time to develop and deploy mobile apps. Mi-Corporation's Mobile Impact Platform (Mi-Platform), along with Mi-Analytics, delivers on this promise and is quickly becoming one of the preferred build tool sets. There's no denying that the RMAD market is being driven by significant innovation, with the objective to replace traditional coding with more effective, almost or completely codeless development tools.
A 2014 study by Kinvey (chart below), based on survey data from CIOs and mobile leaders, found that mobile application development is "costly, slow, and frustrating." According to the survey, 56 percent of mobile leaders indicated it takes 7 months to over a year to build just one mobile app. Another 18 percent indicated they spend $500,000 to over $1,000,000 per app deployed. (The average response was $270,000 and 7-12 months timeframe.)

Developing enterprise mobility applications introduces challenges beyond the ones built for in-house use. Security, wireless, connect/disconnect synchronization, offline safeguards, and so on. It's no wonder the RMAD market is expected to outpace the more technology-intense and traditionally used tools to build and deploy field software. The fact is most customers have been doing the easy part of mobile applications since they opened their doors—building forms using word processing and spreadsheet tools.
A form without a workflow process is like a car without fuel. Since the beginning of time, there has been a form to drive pretty much every business process from customer orders, to asset inspections, to payroll. Using common office software, e.g. word processors, spreadsheets, or publishing tools, to create digital master templates of forms that drive business flourished in 1990 with the explosion of the PC industry. Today, the mobile enterprise is founded on those original digitized form templates—some still printed to paper, others hosted on desktops, laptops, or browser based.
But the user presentation layer for mobile data capture (the form) can be seen as less than 20% of the work effort to deploy a sound enterprise mobile application (see figure below). It's below the waterline that consumes most of the available budget dollars from valuable IT resources charged with building and deploying mobile applications.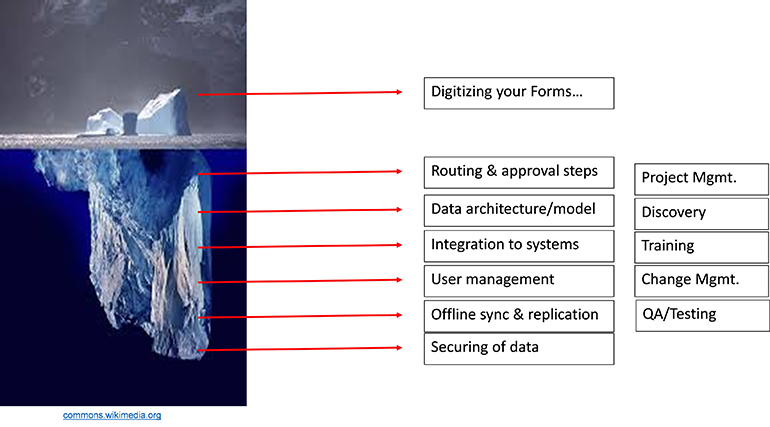 Hence, there is great opportunity for robust RMAD solutions. Especially the ones that remain focused and true to their roots as total solutions platforms. App vendor partners, to fulfill the expectations of technology leaders, must be experts in the space and always on top of what's next. The market is counting on us to deliver—and any RMAD solution that can't keep up is a waste of enterprise dollars and time.