Mi-Corporation wrapped up the 2016 Mobility Summit on Thursday, April 14th at the Durham Convention Center and what a Summit it was! Businesses and Government agencies spent two days learning how to incorporate mobile technology solutions to save time, reduce costs, and improve workforce efficiency.
The Summit featured industry experts sharing best practices for transitioning to mobile, maximizing user adoption in replacing pen and paper, and exploring latest mobile technologies and devices. The Summit also presented educational presentations from mobility experts, end user organizations, and Mi-Corporation team members, as well as vendor exhibits, technology demonstrations, and interactive workshops.
Three of the most popular topics of the Summit presentations and panel discussions were IoT, Data Security "...as a Service," and the power of Cloud Computing with Microsoft Azure. Attendees also gained invaluable insights on the following trends:
mobility success stories
mobile technology education
mobile apps
Internet of Things
Choosing the right device and doing business in the cloud.
Luncheon Keynote Speaker Eric Ellis, Chief Technology and Innovation Officer for the State of North Carolina (pictured here with Greg Clary, Mi-Corporation CEO & Founder), discussed how mobile and other innovative technologies positively impact government agencies as well as corporate organizations.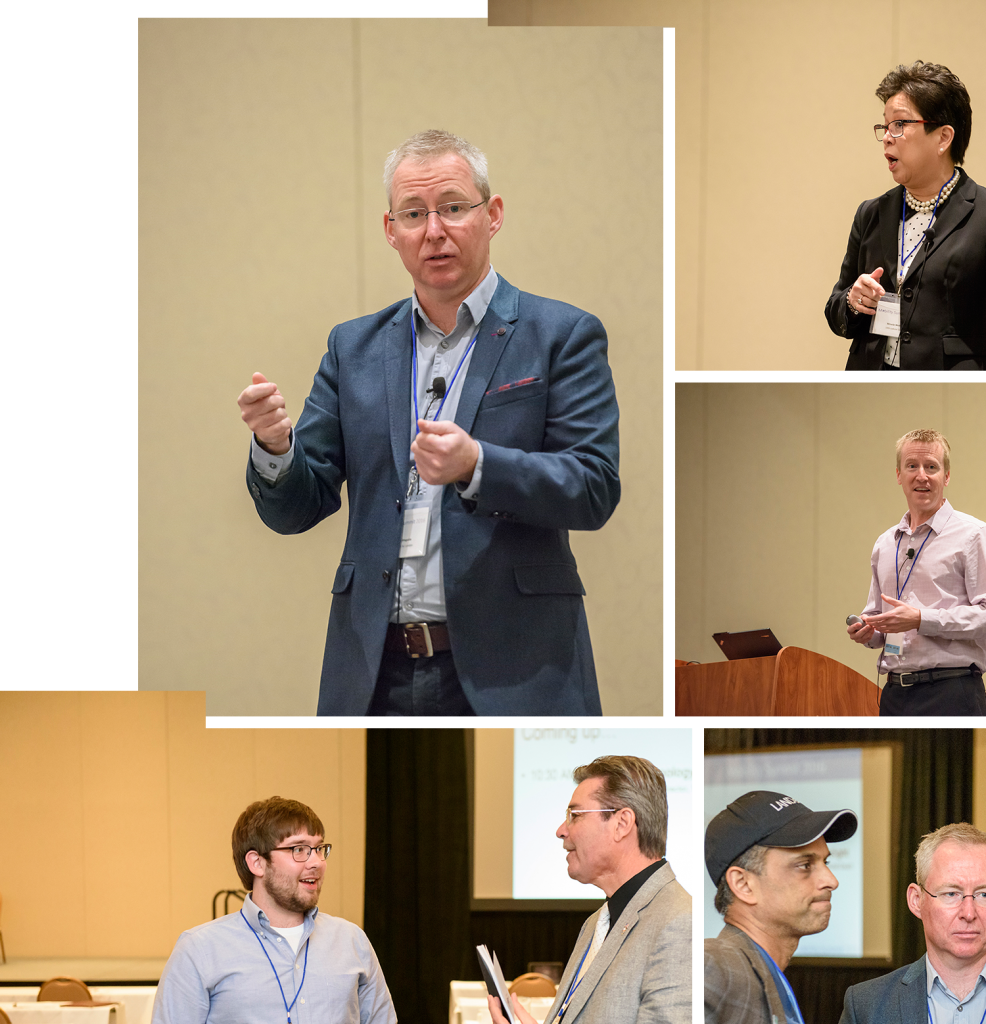 The list of other speakers included leading mobility experts from around the world (click on the link beneath the name to download the presentation):
Conor Maguire, Mobile Program Manager, Transport for London
Winnie Webber, JIS Director, 19th Judicial Circuit Court, Lake County, IL
Paul Russo, Director Global Deployment Support, Xplore Technologies
Josh Robertson, Director Business Development, Smashing Boxes
Bryan Lesko, Enterprise Mobility, Microsoft
Alex Bratt and Julie Scrivner both with EnergySavvy
Phillip Morris, CEO, Mariner
Sharon Hayes, Director Public Sector Innovations at HighSteps
Greg Manson, Solutions Architect, Carolinas IT
Chris Dipierro, Mi-Corporation
Derek Brameyer, VP, WillowTree
Steven Myerow, President, Texcel
Chris-DiPierro-Mi-Corporation-Paper-Prototyping-Workshop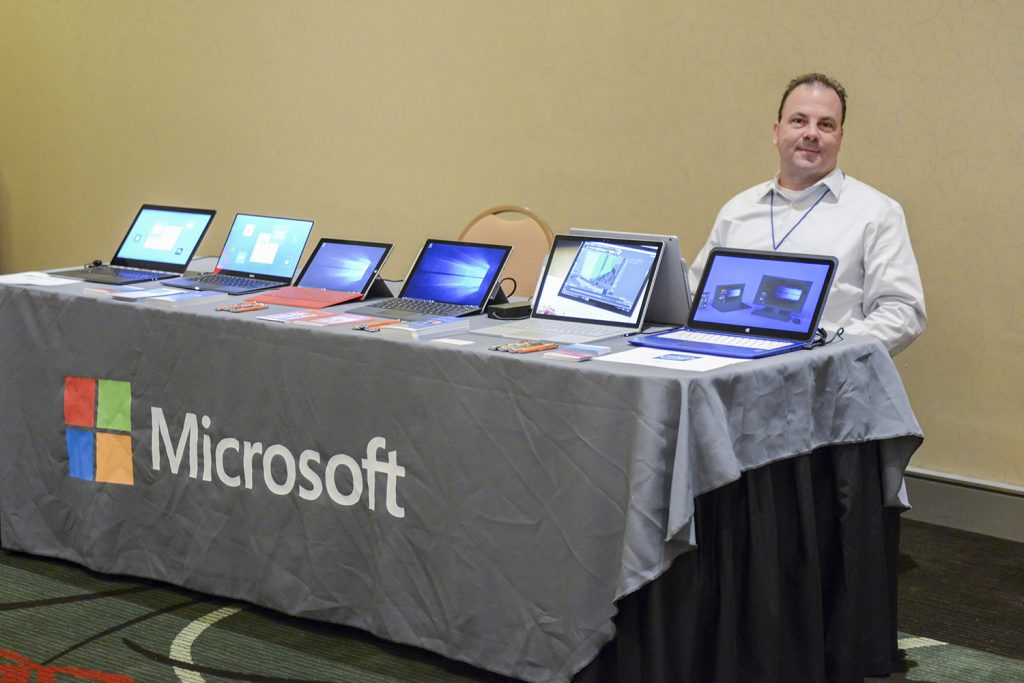 Microsoft, a sponsor of the Summit, brought along an array of Surface Pro's to showcase hardware capabilities.
Paul Russo demonstrated Xplore Technology's line of rugged mobile computing products. Attendees were able to see first-hand the latest in mobile software and hardware.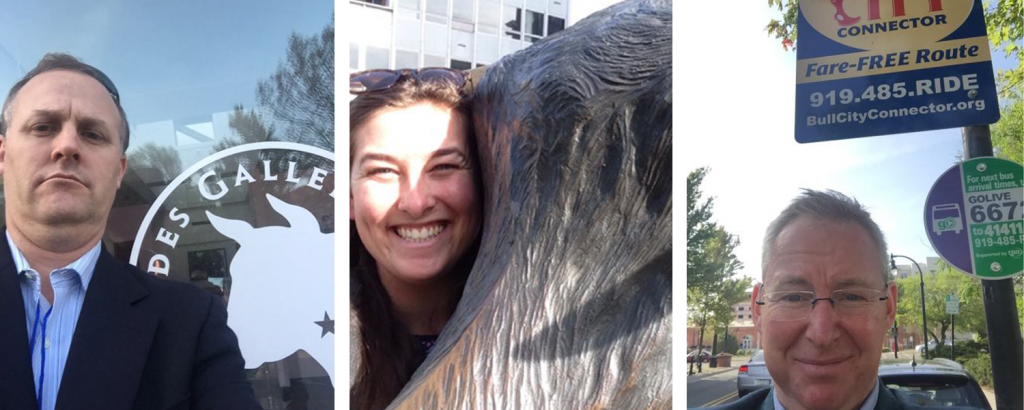 Mi-Corporation gave attendees a taste of its Mi-Apps solution through the Mobile Technology Scavenger Hunt on Wednesday evening. Attendees used their mobile device to register, capture data clues, prove their visitation to landmarks by adding GPS coordinates, auto populate workflow forms, upload photos of downtown statues taken on the mapped route, free form sketch a landmark, and capture signatures to complete the process. The application led the attendees to their reward and resting place — a wonderful outdoor watering spot, Bull McCabes Irish Pub.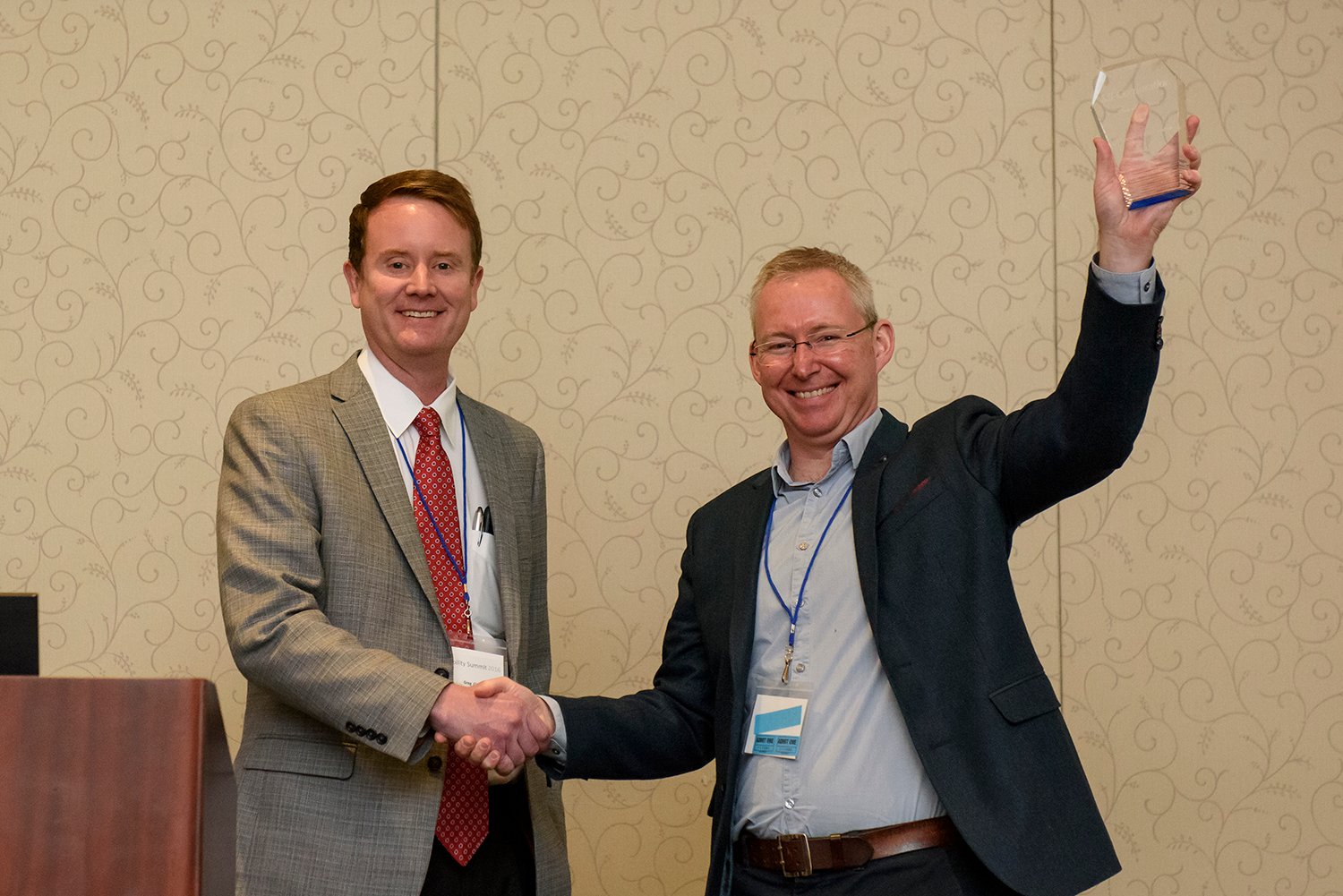 Mi-Corporation doled out several awards during the Summit, including the User of the Year Award, given to the organization that has rolled out its mobile solutions in the most scalable & successful way. This year the award went to Transport for London (TfL), which manages London's buses and Tube network, and has recently entered into an enterprise level deployment of Mi-Corporation's Mi-Forms mobile forms software, after having successfully completed phase 1 of their project. Above Greg Clary presented the User of the Year award to Conor Maguire from Transport for London.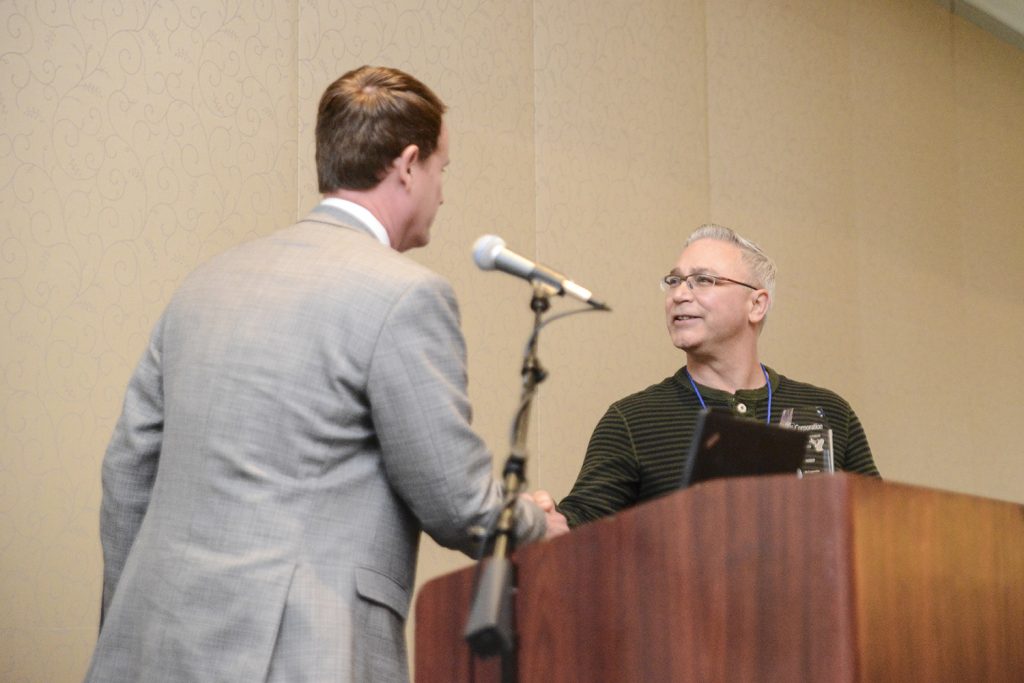 US Military HIV Research Program received Mi-Corporation's Process Improvement Organization of the Year award for successfully transforming their paper process to a mobile process for their clinical trial processes. Above Greg Clary presented the Process Improvement Organization of the Year award to Rory DeShano from MHRP.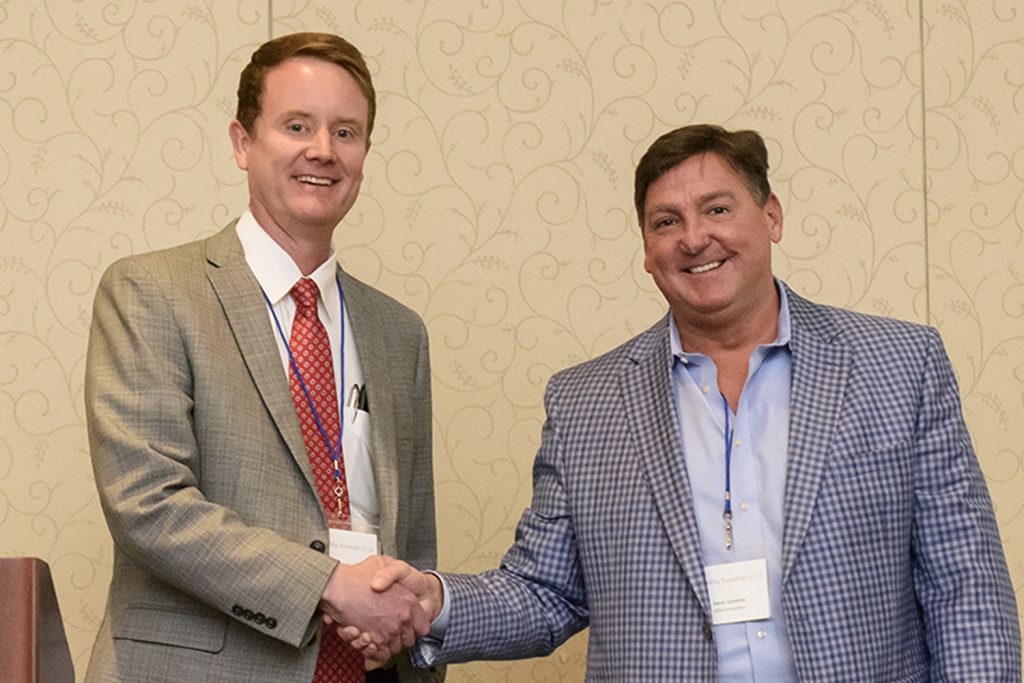 Data Device received the Mi-Corporation Partner of the Year award, and ePharmaSolutions received the Mi-Corporation Innovator of the Year award for their innovative use of Mi-Corporation mobile solutions for their informed consent and patient engagement tools. Above Greg Clary presented the Innovator of the Year Award to Lance Converse from ePharmaSolutions.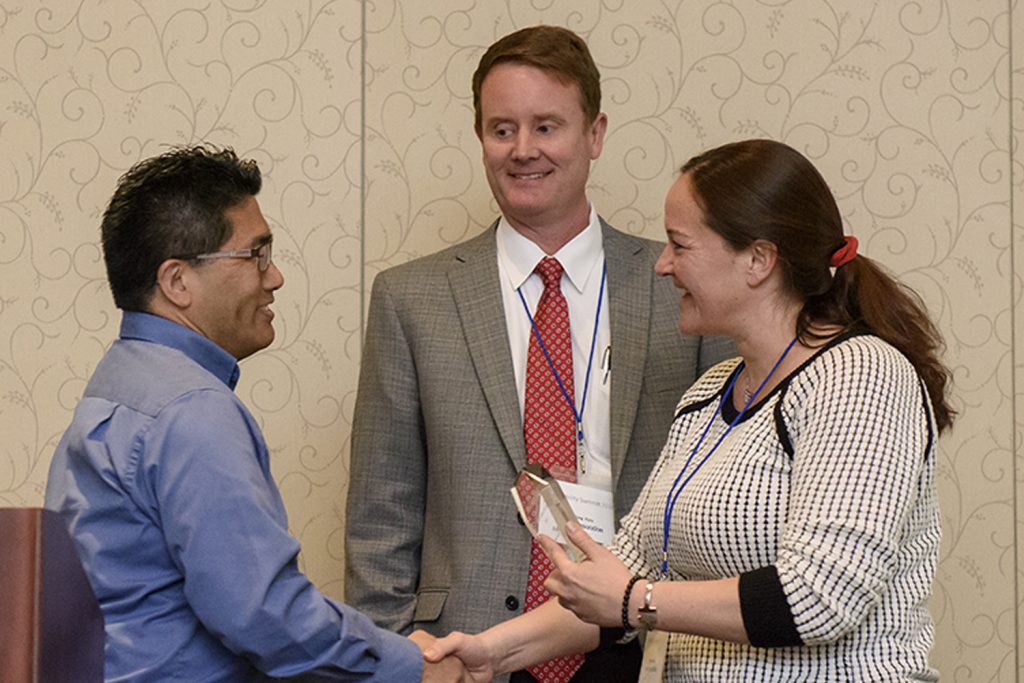 Greg Clary and David Nakamura of Mi-Corporation presented Shana King with the Velvet Glove Award. this award is presented to the Mi-Corporation employee who exhibits a high level of professionalism at all times and provides exemplary service to all customers and trainees.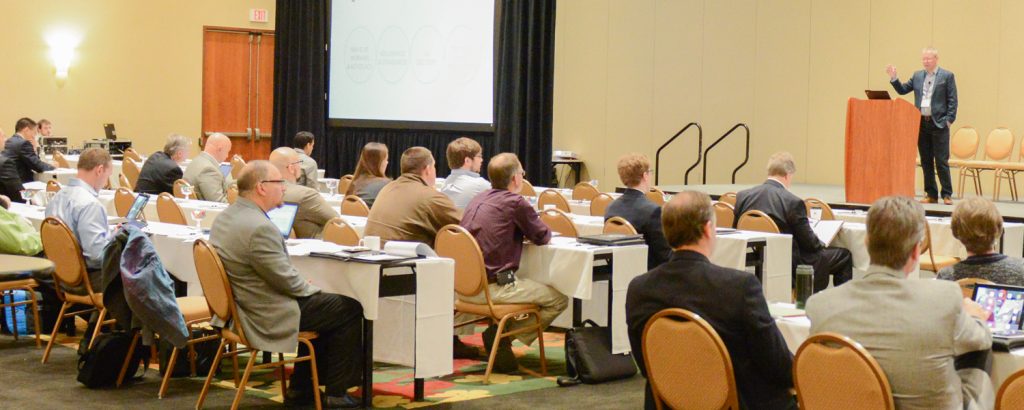 The Mobility Summit is an annual event in the Research Triangle Park region of North Carolina hosted by Mi-Corporation, the award-winning mobile information company, to address issues on how mobility solutions are transforming the way companies do business.
"Mobile devices are becoming the preferred platform for collecting, analyzing, and sharing data within an enterprise environment," said Greg Clary, Mi-Corporation CEO & Founder, adding, "User demand for secure, real-time & error-free data is leading to a constant evolution in mobile forms & mobile app technology. Bringing organizations together to discuss best practices & share experiences has proven greatly beneficial for the companies that attend the Mi-Corporation Mobility Summit."