As you may know, last week concluded our annual Mobility Summit held here in Durham, N.C. We hope everyone whether local, from across the country, or from around the world has traveled safely home from the event.
We would once again like to give a tremendous thanks to all our sponsors, partners, customers and friends for joining us and making our 2015 Mobility Summit such a success!
This year's Mobility Summit had something for everyone, including:
Mobility education sessions
Mobility success stories
Mobility news from around the world
Networking opportunities
Hardware & software demonstrations
And much more
Check out our highlights from this year's Mobility Summit!
1. Keynote Speaker: Tony Rizzo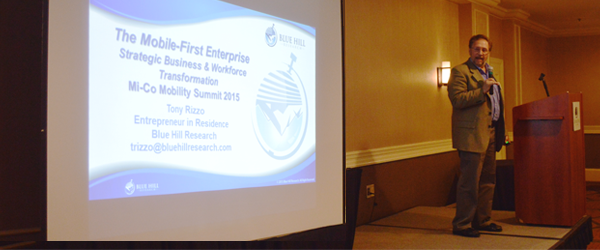 We cannot thank Tony Rizzo, Entrepreneur in Residence at Blue Hill Research, enough for providing the Keynote Address at this year's Mobility Summit. The research he has conducted on enterprise mobility and on Mi-Corporation's software solutions is invaluable and helps shed a better light on the current state of our industry, as well as what we can all expect from enterprise mobility in the future. According to Tony, that future looks like: Internet of Things, Wearable Technology and MBaaS.
>> Read Tony's new research article "Anatomy of a Decision" featuring Mi-Corporation
2. Mobility Metrics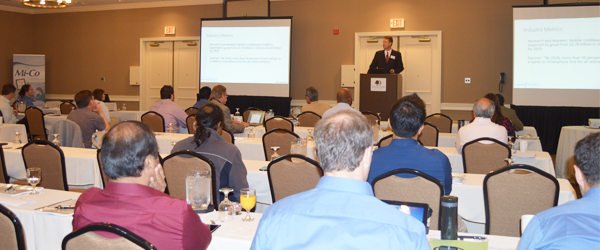 Mi-Corporation CEO Greg Clary and CTO Chris DiPierro focused on presentations around metrics that mobile solutions can help your organization measure and improve. In this day and age of KPIs and results, mobility brings all types of ways to track, measure and improve processes, and the audience learned from real life customer examples.
View Mobility Metrics presentation by Greg Clary and Chris DiPierro
3. Mobility Awards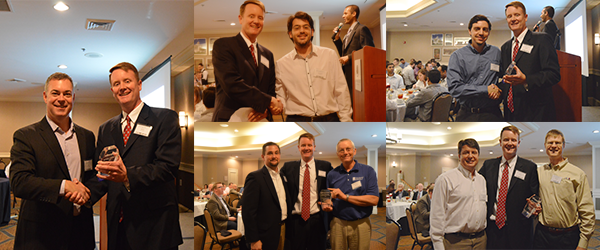 Each year during Mobility Summit we like to recognize and award our users, partners and others for their hard work and innovation, as well as announce the winner of our annual Mi-Forms Madness Bracket Challenge. Congratulations to all of our 2015 award winners!
User of the Year

-

Transport for London
Process Improvement Organization of the Year

-

VA Dept. of Agriculture & Consumer Affairs
Business Partner of the Year

-

BIS
Innovator of the Year

-

Concrete Data
Velvet Glove Service

- Chris DiPierro, CTO, Mi-Corporation
Mi-Forms Madness Bracket Challenge Winner

- Hakki Sahinkaya, DataMagilk
Mi-Forms Madness Bracket Challenge "Nice Try" Award

- Doug Edwards, VA Dept. of Agriculture
4. Mobility + Ronald McDonald House of Durham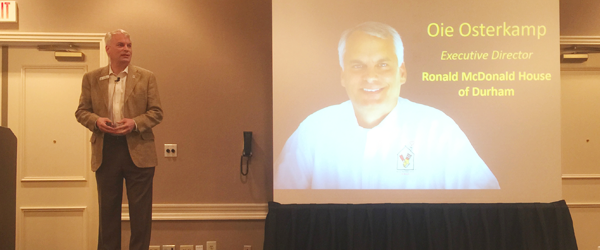 We continue to be inspired by all that the Ronald McDonald House of Durham (RMHD) accomplishes and cannot begin to put into words how honored we are to be part of their mission. We are so thankful for Oie Osterkamp, Executive Director of RMHD, for joining us and sharing RMHD's beautiful story and how they are using Mi-Forms technology to streamline their business processes for increased efficiency, which has enabled them to open a brand new facility in Raleigh, N.C. utilizing the same staff. From here, we look forward to even more ways we can continue to support this organization through mobility.
For more information, view Oie's presentation.
5. iBeacon Technology + Mi-Forms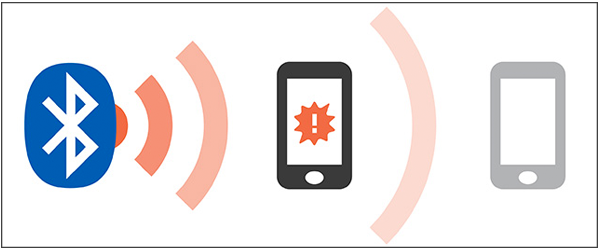 There are enormous possibilities with iBeacon technology and location-based services. Our iBeacon panelists Steve Orell of Proximity Insight and Reid Lewis of Twocanoes Software, took all of us for a ride into the world of this technology and shared use cases and examples of what they, among others, are accomplishing with iBeacons. We also see the importance of making new connections and having face-to-face conversations with like-minded mobility experts and the kind of innovation that stems from these interactions: During the conference, our technical team worked onsite with Reid on an impulse and managed to produce iBeacon capabilities available within our Mi-Forms mobile forms technology as a prototype! Call that rapid innovation!
6. Mobility Success Story with Business Imaging Systems (BIS)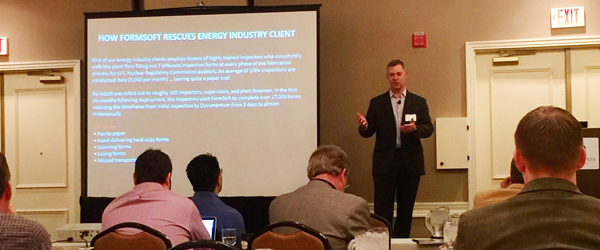 This year, Mike King from our partner organization BIS, shared a few mobility success stories that they've been a part of while helping companies implement Mi-Forms technology. He gave a high-level overview of each story, including details about each company--example workflows, number of users, issues they were trying to solve--as well as their mobility journey and the results they've experienced since switching from a paper process to a mobile data solution.
7. Mobile App Workshop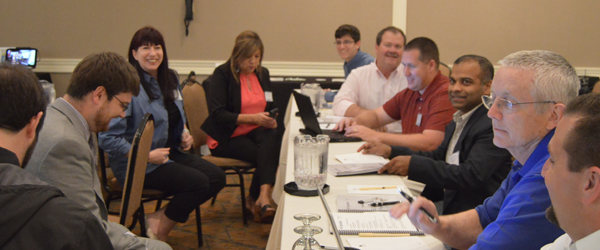 Our interactive Mobile App workshop and challenge was a fun way to combine everyone's mobility expertise for an exciting contest to see who could come up with the best enterprise app idea. All the ideas were excellent, which made choosing a winner very challenging. Ultimately, the app idea eTrain for Government HR professionals—an easy-to-use mobile training program, was decided as the winner. "WOOT WOOT!"
8. Microsoft Azure Government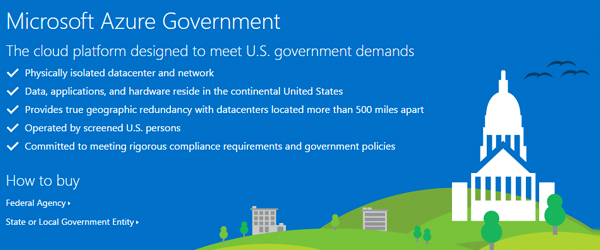 For the Government agencies out there, Microsoft Azure Government opens great opportunities for enterprise mobility within the Government space. Built to meet the many security, compliance and regulatory requirements in place in most government agencies, the Microsoft Azure Government provides a cloud-based hosting solution that these agencies are approved to use that was previously not available to them. Agencies now have the option to host solutions such as Mi-Corporation's Mi-Forms through a secure, government-only cloud and deploy mobile solutions faster, cheaper and without needing to bog down their IT personnel.
9. Mobility Success Story with Virginia Dept. of Agriculture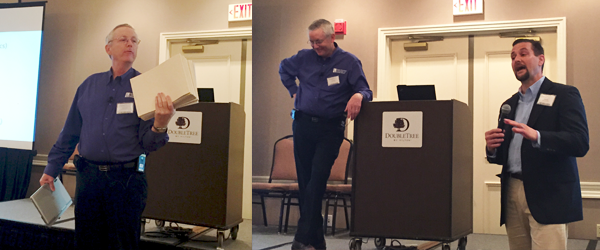 A huge thanks to Doug Edwards and Jeff Rogers of the Virginia Department of Agriculture & Consumer Services for sharing their experience implementing Mi-Forms technology to replace their previously paper-based inspection processes. Doug outlined their mobility journey from how they budgeted for the project to why they chose Mi-Forms (giving us a great visual of how much paper they were previously using, which was ~40,000 pieces of paper annually), as well as their mobile form requirements, the challenges they faced with advice for how they overcame them, and the results they've experienced since switching to a mobile data solution.
View VA Dept. of Agriculture's presentation to learn more.
10. Happy Hour, Tacos, Brew Tasting Contest & Trivia!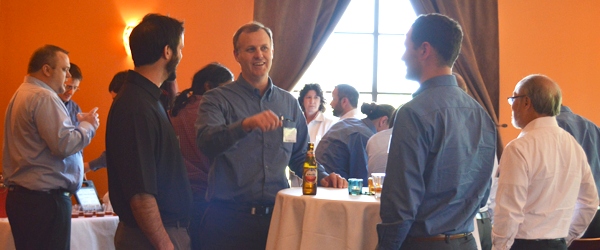 After we wrapped Day 1 of Mobility Summit, we spent the evening unwinding at Mez restaurant with a build-your-own taco bar, a brew tasting contest and trivia contest! We enjoyed getting together with everyone and testing all of our Mi-Corporation and Mobility trivia skills featuring Mi-Forms Mobile Forms software and displaying real-time answers with the Mi-Analytics Reporting system! We'd like to give a huge thanks to Mez for hosting us, and to Carolina Brewery for putting on the craft beer tasting contest.
11. Rugged Devices: Motion Computing + Xplore Technologies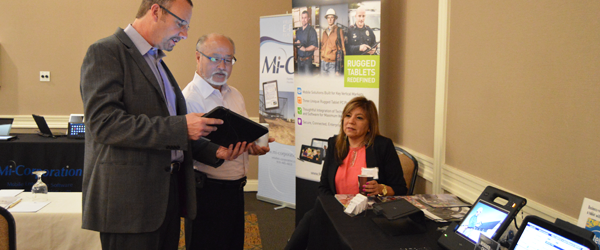 For those of you who have not yet heard, Xplore Technologies very recently acquired Motion Computingcombining two leading companies in the Rugged Device industry. Paul Russo gave a great presentation overviewing all of the rugged devices now available with the newly combined Xplore and Motion product lines, and allowed attendees to check out the devices for themselves.
12. Mobility Managed Services
Amanda Butlett from Enterprise Mobile opened our eyes to mobile security concerns, and how organizations can leverage managed services to streamline their management of devices and mobile solutions. MDM software, help desks and more were all discussed and deliberated.
13. Microsoft Windows 10 Roadmap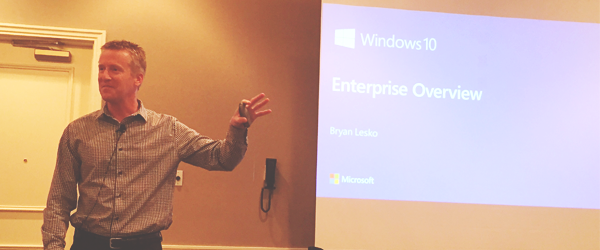 Bryan Lesko from Microsoft shared more information about what's coming in Windows 10, the vision for one platform for all devices no matter how big or small. He also discussed Microsoft's plan for the Internet of Things, device security and more, and left the audience asking, "When will it be here?!"
14. Around the World in Mobile Days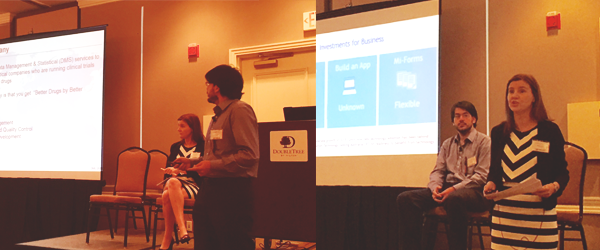 Mi-Corporation customers and partners from overseas--Hakki Sahinkaya of DataMagik in the UK and Natalie Houlahan of DataDevice in Australia--shared their perspectives on mobile solutions in their countries, the rate of technology adoption and more insights to help the audience understand how to tackle mobility in this day and age of the global 'small world'.
View our Mobility Summit 2015 Photo Gallery
If you missed this year's event, check out some of our Mobility Summit 2015 Presentations:
Mobility Metrics - Greg Clary, CEO, Mi-Corporation
Mobility Matters - Chris DiPierro, CTO, Mi-Corporation
VA Dept. of Agriculture - Doug Edwards & Jeff Rogers
Ronald McDonald House of Durham - Oie Osterkamp
Xplore Technologies Rugged Devices - Paul Russo
Twocanoes iBeacon Technology - Reid Lewis
Thank You to our Mobility Summit 2015 Sponsors, and see you in 2016!