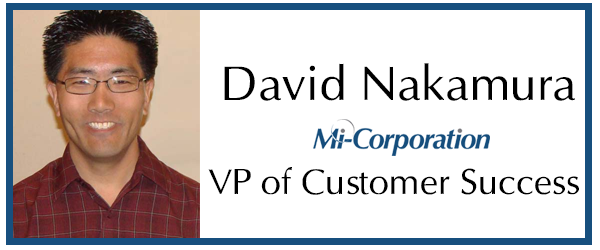 The leadership team at Mi-Corporation recently named David Nakamura as the new Vice President of Customer Success. Previously, David served as Mi-Co's Director of Quality Assurance.
David has been a member of the Mi-Co team for over 14 years. Before starting with Mi-Co in 2000, David lived and worked in California as a teacher, where he developed his technical skills in the school computer lab.
In 2000, David began testing Mi-Corporation products, which were centered around the Palm OS, and soon after began supporting customers as a technical support specialist. With support for .NET scripting in Mi-Corporation's Mi-Forms, David learned Visual Basic to assist customers with their form needs.
To help with the development of Mi-Forms System products and customization needs in the Microsoft .NET, ASP.NET, Windows Phone, Android, and iOS environments, David has acquired skills in C# and web technologies including JavaScript, HTML5 and CSS3.
In 2004, David moved to the Seattle area to establish a west coast office for Mi-Corporation's nearby customers and partners. Get to know David through our short Q&A session below.
5 Questions with David Nakamura
1. What is your favorite thing about working at Mi-Co?
I love the opportunities to learn and take on challenges. Since my first day at Mi-Co, mentorship by great team members has been a real motivation to learn and creatively solve problems. I recall some of my very early days at Mi-Co when I started as a software tester and others continued to challenge me to learn computer programming--"You can do it." From there, the thrill of building solutions for others has always stayed with me.
2. What new trends in enterprise mobility do you anticipate to see in the near future?
To remain competitive, enterprises will need to adopt secure mobility strategies that can be quickly deployed with the ability to adapt to changing markets at a fast pace. Companies will be looking at proven solutions that provide easy-to-use toolsets that support flexible platforms, integration with their backend systems, and the ability to future-proof their expanding mobility requirements. Security will continue to be a top priority, especially in the government sector. As more cloud based hosting solutions implement better security practices, enterprise IT departments may have the ability to focus more on developing a mobile app strategy and less on maintaining an infrastructure.
3. Do you have any advice for businesses looking to implement enterprise mobility solutions in the New Year?
Yes! This is a great time to start something new in enterprise mobility… my advice is to focus on solving the big picture issues and take measurable steps to achieving your goals. Enterprise mobility offers more than just replacing your current process with technology - take the time to identify, analyze and improve your business process.
4. Outside of work and technology, how do you spend your time?
My wife Kira and I are raising three boys. We enjoy outdoor hikes, the local beach, and meeting up with friends.
5. What's the first piece of mobile technology you ever owned/used?
Besides a Sharp "Wizard" Organizer, the first mobile technology that started my journey into mobility with Mi-Co was the 3Com Palm III. I still have it somewhere around here…