Mi-Corporation now supports Microsoft Cloud for Government, providing hosted mobile solutions for the most security-conscious government entities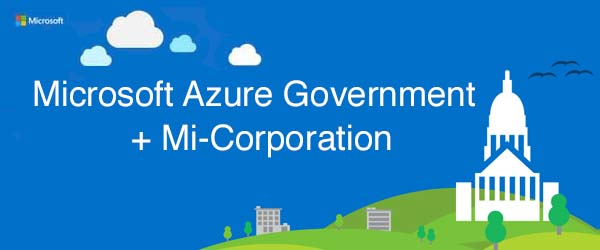 May 13, 2015 – Mi-Corporation today announced it has become a Managed Service Provider for the Microsoft Cloud for Government and described its work to deliver best-of-breed Mobile Data Capture solutions for Government inspectors in the field in order to boost productivity, increase efficiencies, reduce costs and provide better service to citizens. Agencies of all sizes can take advantage of Mi-Corporation software to deliver mobile app solutions for regulatory inspectors, delivered via Microsoft Azure.
Mi-Corporation's announcement follows its participation in the Azure Government Cloud preview and Microsoft's One Government Cloud Summit in Washington, D.C. last year, where Federal, State & Local Governments gathered as Microsoft announced the general availability of Microsoft Azure Government and the January availability of Dynamics CRM Online Government (Dynamics CRMOL G). Both products are critical elements of Microsoft's complete cloud offering for government. Attendees also heard Microsoft CEO Satya Nadella share his vision for the industry and discuss how government organizations can thrive in the mobile-first, cloud-first world.
"We are seeing tremendous uptake and enthusiasm from our partner community around the promise and potential for the Microsoft Cloud for Government," said Vince Menzione, General Manager of Microsoft's U.S. Public Sector Partner business. "Partners have committed to building on the Microsoft Cloud for Government, from public safety-focused partners who need specific CJIS support for managing drastic increases in storage to large system integrators developing hybrid solutions to more seamlessly help government agencies move to the cloud."

According to Greg Clary, PhD, CEO of Mi-Corporation, "Mi-Corporation is proud to be a Microsoft Gold ISV, delivering the very best mobile data capture solutions for inspection and case management for agencies, now through the Microsoft Cloud for Government to achieve transformative impacts. Progressive agencies are adopting Cloud & Mobile solutions and we are pleased to offer them the best ways to achieve their goals and improve citizen service delivery."
Mi-Corporation delivers proven benefits for government agencies including improving data accuracy 100x at IDCRP, saving $675,000 per year for the USDA, and reducing inspection process times from 4 weeks to 1 day at NC Department of Agriculture. Mi-Corporation has previously received the 2013 Microsoft Life Sciences Innovation Award and been featured on Microsoft SLG.TV as well.
With Mi-Corporation solutions on the Microsoft Cloud for Government, small, medium and large sized governments all get the most complete, comprehensive and flexible solutions, spanning infrastructure, data, productivity, and business applications.