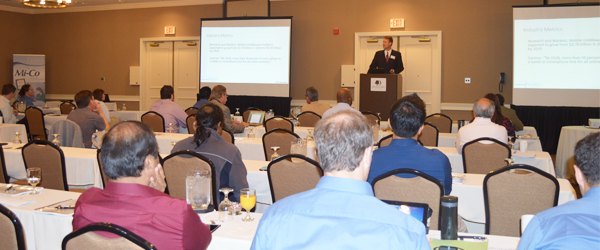 Mobile Technology Industry Leaders Examine Trends, Challenges in Reducing Human Error, Compliance, Streamlining Logistics, Increasing Productivity and Efficiency.
DURHAM, N.C. -- Mi-Corporation, the award-winning mobile information company, welcomed leaders from the mobile technology industry to Durham April 22-23 for the company's annual Mobility Summit, an examination of how mobility solutions are transforming the way companies do business.
The well-attended event provided vendor exhibits, informative educational opportunities, and vibrant networking for attendees to share best practices in successfully utilizing mobile software and hardware to reduce human error, comply with government regulations, streamline logistics, and increase productivity and efficiency.
"We had incredibly substantive presentations as well as meaningful collaboration between attendees to identify needs and solutions to move the mobile technology industry forward," Mi-Corporation VP of Sales & Marketing Gautham Pandiyan said. "One our speakers & our CTO even collaborated during the event to instantly prototype a new feature, to enhance our solutions with location-based services, showing that innovative sparks can fly at such gatherings!"
Highlights of the event included market updates; technical expert and business process consultations; an interactive mobile app workshop; a mobility expert panel; examinations of successful mobility use cases; a presentation on Microsoft's roadmap in mobility & with Windows 10; overseas perspectives; and a standing-room-only keynote speech by former Editor-in-Chief of Mobile Enterprise Magazine and current enterprise mobility analyst, Tony Rizzo of Blue Hill Research.
Rizzo's presentation examined where mobility was back in 2010, where it is now after hitting an inflexion point in 2013-2014, and where it is heading in the years ahead. Explaining that mobility is a strategic differentiator and long-term business strategy and not a short-term fix, he noted that there is no enterprise today that doesn't understand mobility has to be a part of it to succeed, and those who don't have their mobile house in order are lagging behind, wasting resources trying to catch-up.
Rizzo examined mobility through its relationship to three key business stakeholders -- line of business, IT, and finance -- exploring how all three work together in a collaborative, cohesive way to achieve mobility goals of significantly improving and transforming business processes, driving down the total cost of operations, and increasing competitiveness and maximizing revenue opportunity.
"With mobility you have to think about what's new, exploring available solutions, and taking time to make sure they're the right solutions to deliver on the flexibility to meet a great number of needs, not just the needs of the moment," he said, adding, "There is a groundswell of mobility coming, and Mi-Co is well-positioned to address that." Tony Rizzo has also published an analytical report on Mi-Corporation.
In addition to Rizzo, Mobility Summit 2015 speakers included:
Amanda Butlett, Mobility Services Director, Enterprise Mobile
Doug Edwards, Project Technician, Virginia Dept. of Agriculture and Consumer Services Office of Pesticide Services
Natalie Houlahan, Marketing Manager, DataDevice Pty Ltd
Mike King, Manager, Solution Design, BIS
Bryan Lesko, Windows Device TSP, Microsoft
Reid Lewis, Senior Vice President of Sales and Marketing, Twocanoes Software and Labs
Steve Orell, Co-Founder, Proximity Insight
Oie Osterkamp, Executive Director, Ronald McDonald House of Durham
Paul Russo, Director of Global Deployment Support, Motion Computing
Hakki Sahinkaya, Software Developer, Data Magik
Mi-Corporation doled out several awards during the Summit, including the User of the Year Award, given to the organization that has rolled out its mobile solutions in the most scalable & successful way. This year the award went to Transport for London (TfL), which manages London's buses and Tube network, has completed a successful phase 1 deployment and is scaling Mi-Corporation's Mi-Forms mobile forms software to 27,000 users at the agency.
The Virginia Department of Agriculture & Consumer Services received Mi-Corporation's Process Improvement Organization of the Year award for successfully transforming their paper process to a mobile process for field inspectors' inspection processes. BIS received the Mi-Corporation partner of the year award, and Concrete Data received the Mi-Corporation Innovator of the year award for their work on the unique Offline Data Replication system from Mi-Corporation.
Mobility Summit 2015 sponsors included Motion Computing, NarraSoft, NewWave Technologies, Success360i, DataCaliper, Concrete Data and Walt Brown Co. Those that missed the summit can catch up with our "Mobility Summit 2015 Recap" blog post.
Mi-Corporation has continually shared its mobile data expertise gained in serving clients over the past 15 years -- as well as its intellectual leadership garnered through the development of 10 issued U.S. patents -- via participation in national industry events; webinars; and the company's Mobility Summit. Mi-Corporation's 2016 Mobility Summit will be held April 19-21, 2016.