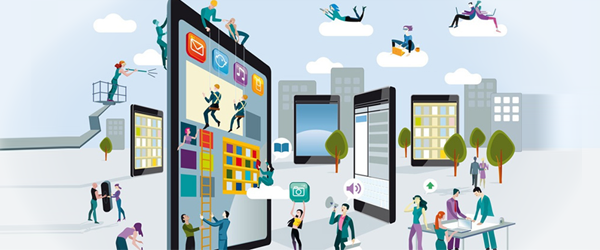 In this day and age, mobile devices are mainstream and continue to make big strides in the enterprise. As we start to wrap up 2014, it is useful to look ahead to the coming year to explore what the landscape of enterprise mobility might look like in 2015.
Recently, the Enterprise Mobility Exchange and Field Technologies Online both released reports offering an interesting glance at what enterprise mobility will look like in 2015 based on trends of the past.
Enterprise Mobility Exchange: "Global State of Enterprise Mobility 2015"
The EME report surveys Mobility Practitioners (at companies that purchase and use mobile technologies), Mobility Solution Providers (such as Mi-Corporation, that offer mobility solutions of various kinds), and Mobility focused analysts (like Tony Rizzo at Blue Hill Research, and many others).
Key takeaways:
21% of practitioner organizations are still scoping mobility solutions for their needs.
62.5% of practitioner organizations have invested in mobile apps related solutions in the past 12-18 months. About 52.1% plan to invest in mobile apps solutions in the next 12-18 months.
Biggest driver for these investments: to increase productivity (68% of mobility practitioners).
Top challenges for investments: securing stakeholder buy-in (34%), and integration with legacy systems (37.5%).
Biggest benefits organizations have seen from these mobility projects: reduction in time spent on tasks/field by their staff and gaining a competitive edge for their business.
Field Technologies Online: "Field Mobility 2015"
The field mobility report features input by Sarah NiCastro, Editor-in-Chief of Field Technologies Online, analysts such as Aly Pinder Jr. from Aberdeen Group and David Krebs from VDC Research, and companies like Russell Reid, Trane, Luminex and more with a significant field workforce.
Key takeaways:
Top 3 Challenges for Mobile Workforce
Ensuring mobile workers are at optimal efficiency/productivity.
Ensuring accurate data capture in the field & real-time information.
Improving first-time fix rates.
Top 3 Drivers for Field Mobility Investments
Maximizing productivity/performance.
Improving customers' experience & satisfaction.
Reducing costs.
Top 3 Criteria for Selecting Field Mobility Software
Ability to integrate with current back office systems.
Ability to work untethered/without connectivity.
UI/Ability to map the workflow.
45% of organizations are only 'somewhat satisfied' or 'dissatisfied' with their mobility ROI.
37% of organizations have a Machine-to-Machine (M2M) or Internet of things (IoT) solution in place already, and 40% plan to soon, foretelling a major trend to come for 2015.
A common theme you'll see repeated here, which we have seen often as well, is the interest of organizations to maximize productivity. If a $1,000, $5,000 or $10,000 investment per employee will make them 20-50%+ more productive, should the company hesitate to make a significant investment in mobility? This reminds us of the days when organizations first started to roll-out $1,000-$2,000 laptops to each employee, resulting in boosted productivity and making laptops more or less a given for any new employee. It will be interesting to see if the same trend will appear with enterprise mobility.