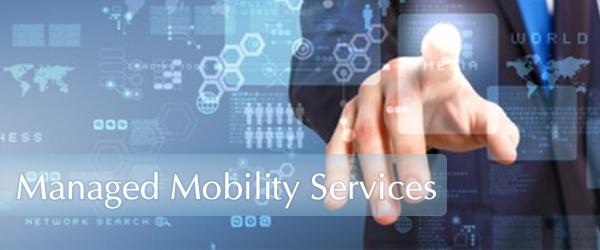 We take a look this month at the "Managed Mobility Services" market space (sometimes referred to as Enterprise Mobility Management), an important segment given the profusion of mobile devices, mobile apps, mobile back-end as a service (mBaaS) platforms, mobile services and more! Last year, research firm Gartner published its first MMS Magic Quadrant report, predicting that MMS revenue could grow from $500 million in 2013 to $3.4 billion by 2016.
According to Gartner in the Managed Mobility Services 2014 Magic Quadrant Report, "Managed mobility services (MMS) encompass the IT and process services provided by an external service provider (ESP) that are required to plan, procure, provision, activate, manage and support mobile devices, network services, management systems, mobile applications and application stores."
In terms of ESP capabilities, Gartner breaks MMS into 6 categories as follows:
1) Sourcing & Logistics Management – Purchase, Provision & Activation of mobile devices for a workforce
2) Mobile Service Management – Mobile contract inspections, network performance audits, expense management
3) Device & System Management – Service helpdesk for corporate liable and BYOD devices, mobility servers etc.
4) Application & Collaboration Management – Support for off-the-shelf and customized mobile applications
5) Security & Content Management – Setting up & enforcing rule-based policies, securing devices, data etc.
6) Program & Financial Management – A 3rd party becoming an 'agent' for a corporation, responsible for all or most aspects of managing mobility
Let's take a look a look at Managed Mobility Services in action. This Case Study from MOBI, a MMS/EMM provider, illustrates the challenges a publicly traded IT company faced. With 600 devices, 2 wireless carriers & 60 cost centers to allocate costs to, effectively servicing their employees caused this organization to incur a $100,000+ international roaming charge. This led their CFO to look for a managed mobility services provider. Putting a policy, portal & system in place for 1,100 employees, MOBI was able to provide (1) Expense Management, (2) End-user Support & (3) Analysis & Reporting, resulting in significantly lowered wireless & roaming costs.
Calero, another MMS provider, has a nice set of case study examples here with customer success metrics identified, including example such as producing $15,000 per month savings in monthly telecom fees for Huhtamaki, a specialty consumer good packaging company, recovery of unused mobile devices and more.
While any large organization with a proliferation of devices, apps and data needs to consider outsourcing their management to providers like these, it's not all a bed of roses. Gartner also cautions here, that a lot of MMS providers are still in the early stage of fully developing their offerings to truly support global deployments. Don't think of just expense reduction as the main purpose of MMS – with more efficiently managed mobile services, your organization can drive more revenue, maximize employee productivity, create new business models and transform customer service as well. With more & more mobile fun to come, whether you outsource or insource, be aware of all the facets of enterprise mobility deployments!