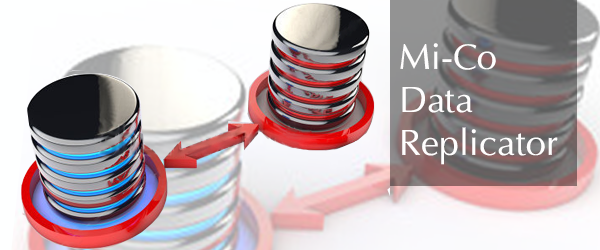 One of the 3 new exciting products announced at Mobility Summit 2014 this past month was Mi-Enterprise Apps which includes a new robust Data Replication feature for offline data access in the data capture, reporting & retrieval processes. Access to data such as past visits, equipment specifications, site location information, etc. while offline can be a critical factor for mobile data workers who often find themselves in areas where an online connection is unavailable. The Data Replication solution from Mi-Corporation seeks to provide both Mi-Forms and Mi-Enterprise Apps with a feature-rich, end-to-end solution meeting the needs for enterprise mobile data capture, access and reporting.
Data Replication allows for a data adapter to feed data from a variety of sources into the Data Replication Server as "resources". Sources for this data may include a database (SQL Server, Oracle, DB2, PostgreSQL, MySQL, etc), a web service, CSV files, or any other 3rd party data source. The data adapter interfaces with the Data Replication Server and provides entity (i.e. a database table) schema information and content via RESTful services.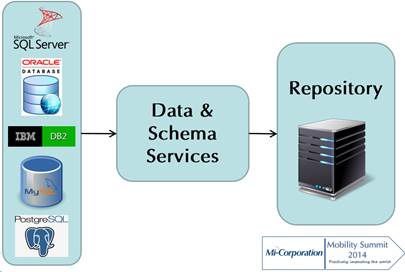 On the client-side, Mi-Corporation provides a Replicator (Windows, iOS, and Android) which manages the interactions with the Data Replication Server and stores data locally via a SQL Lite database. For forms or apps, the Replicator provides methods for :
Registering for a resource

The Replication Server may contain any number of resources but the form or app may only need one or a few of these
resources.
Resource registrations may also be filtered such that a subset of a resource may be "pulled".

Foreground sync

Registered resources will be immediately pulled from the Replication Server.

Background sync

Registered resources will be periodically pulled from the Replication Server.
Interactions between the Server and the Client will automatically determine whether to send full or incremental data sets.

Data access

A direct connection with the SQL Lite database will also be available for data access.

Deregistering for a resource

Resource registrations may by deregistered where all data associated with the registration is removed from the device.
Deregistered resources are removed from foreground and background sync processes.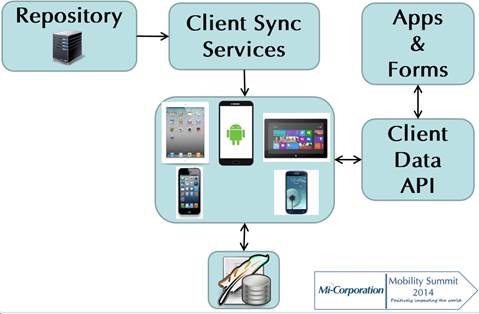 We're excited and looking forward to the great mobile forms and mobile apps implementations that will be augmented with the power of Mi-Corporation Data Replication! Let us know your thoughts and suggestions.