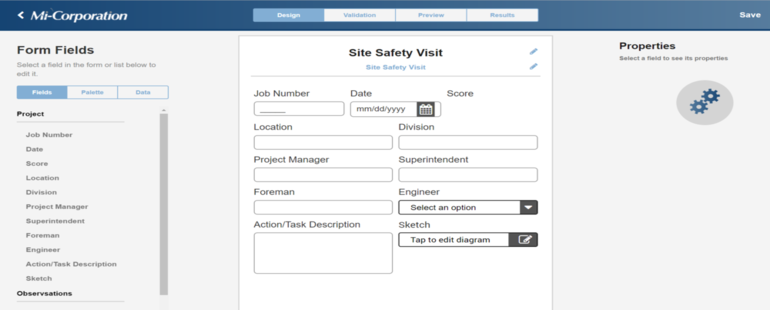 Mi-Corporation has a long history of helping organizations improve operational efficiency and accuracy via mobile data capture solutions.
The NextGen Designer, part of Mi-Corporation's Mobile Impact Platform, allows your organization to create those solutions faster than ever. Even better, this tool has been developed with the citizen developer in mind. That means your workforce doesn't have to wait for their mission critical data capture apps to be developed by an over-burdened IT department. Yes, the power of rapid app development can now be placed directly into the hands of business users! The NextGen Designer also gives more control to your IT team, enabling them to develop apps faster as well. Plus, they now have the flexibility to let the business tackle some apps while they tackle those requiring special skills.
The NextGen Designer is convenient as well! Since the tool is web based, designers enjoy the following benefits:
Use any modern desktop / laptop browser to design apps, anywhere, anytime
No software installation on device
Start a form on one device and continue it on another without having to move files
Not only can you design from any device, but you can design once and deploy to any device!
It's no secret that organizations worldwide are increasingly implementing a BYOD policy. The benefits of a BYOD policy are no secret either:
Save moneyby eliminating the need to buy each employee specific devices and equipment
Increase happiness and satisfaction of your employees
Boost productivity by allowing employees to use devices that are familiar and comfortable to them
Have up-to-date technology (employees can use the most current devices)
When designing at the speed of business, there simply isn't time to design for multiple devices. Your mobile workforce needs inspection and other data capture apps that help them perform their mission critical tasks in the most efficient and accurate manner possible, and they need them now.
Contact us to earn how the NextGen Designer allows application developers to save time and money while creating applications that do the same!