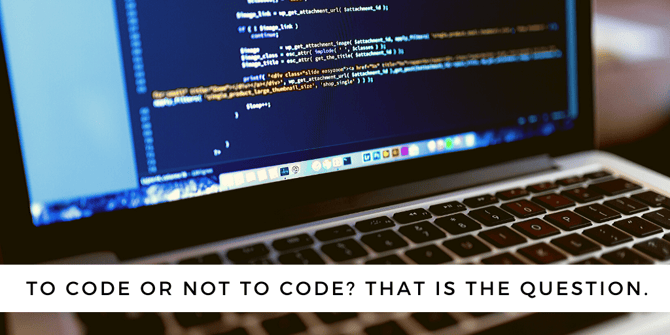 To Code or Not to Code? That is the question. Whether tis nobler in the minds of CIO's to suffer the slings and arrows of those who cannot get Apps fast enough or supply them with a low code solution that empowers the business to build their own.
"Chief information officers, on the hook to automate manual and repetitive business processes, are increasingly turning to tools designed to create applications quickly, without the sweat of writing and debugging lines of code." WSJ Article November 14, 2019 by Agam Shah
And it's a good question that has a straightforward answer. In today's world, mobile data is everything. It delivers mission critical information directly from the point of service or inspections. It provides the real or near real-time visibility to information now. With an industry proven low code App development and deployment solution you can empower the business to accelerate your App strategy. With a low code App solution, the business becomes an integral part of executing your IT strategy by leveraging their subject matter expertise with an easy "click, drag, and drop" App designer, in essence, it also extends your IT resource pool.
Low Code Inspection App Design Software
If you are investigating a low code solution, make sure it meets these minimum requirements:
App designer should be Web Based allow easy access from HTML5 Browser
Your Low Code designer should utilize a simple "Click, Drag, Drop" method
The App designer should embrace not only the simplest data elements such as data entry, dates, signatures, customizable check lists to ensure best practices or radio buttons, but also include complex capture fields such as Photos, GPS, Maps, URL's, Bar Codes, and File Attachments
Your investment should be future proofed, operating systems and or device sizes should not be limited to one or two flavors, the best solutions are agnostic and will support iOS, Windows, and Android
The right low code solution should not be dependent on network connectivity
It should embed flexible and dynamic decision support capabilities
Must have a complimentary, and as easy to use, backend database like SQL, a "click" empowered rules engine, a report designer based on user defined Word/PDF backgrounds all with an automated workflow ability for a complete Enterprise solution
Your new low code solution should enable centralized data accessibility, graphical visibility, automatic data organization, repurposing and sharing across Enterprise users as supported by robust security models
Don't forget one of the most important time savers with the right low code solution – data integration, directly from the App designer by a "click drag drop" from your existing data sets
With the right low code field inspection software, you have complete control over your data while allowing the business to quickly build, test and transfer over to IT for final approval and deployment. This is how you accelerate the process of having existing line of business employees become a transparent part of your IT department making their expertise and their data support App deployment success. The value propositions include improved operational efficiencies, reduced costly data delays and entry errors, missed or in error management or compliance reporting, enhanced customer engagements, improved SLA's to those we serve and an overall competitive edge. Seeing is believing – seeing your data give you the tools you need to grow and quickly make decisions based on digital data facts.
The Low Code NextGen Designer allows your IT staff to grow exponentially by empowering the business users to participate and become engaged in the new world of Mobile Apps.
For a demonstration of the Mobile Impact Platform, a leader in the low code App development market, please contact us and request a demonstration.